It's the holiday season, and that means Santa is coming to Fort Wayne, Indiana! Don't miss your opportunity to tell him everything on your wish list and get your annual photo with Jolly O' Saint Nicholas. Here are all of the places on Santa's agenda! 
Where to Find Santa in Fort Wayne, Indiana
1. Night of Lights
The Wednesday Before Thanksgiving
See Santa and his Reindeer at PNC Bank — Beginning at 5:30 pm
You can also find Santa at these other locations during the Night of Lights: Santa & Mrs. Claus at BND, Santa & Mrs. Claus at 1st Source Bank,  Pizza & Pictures with Santa at Horizon Bank, Santa at Baker Street Train Station.
2. Festival of Trees
Embassy Theatre
Santa does not always attend every day of the Festival of Trees, but keep on the lookout for him amongst the beautiful trees! Every year, Santa tries to make a visit to see some of Fort Wayne's greatest holiday decorations. He will also be at the Breakfast with Santa, which is sold out for 2019!
3. Breakfast with Saint Nicholas
December 7
Hosted by the University of St. Francis, enjoy a buffet breakfast and fun while learning about the legacy of the figure that inspired our modern Santa Claus. Register here.
4. Breakfast with Santa Before the Show
December 14, 10 am
Held at First Presbyterian Church before the Fort Wayne Youtheatre's performance of Frozen Jr, this Arendelle-themed breakfast will have favorite characters from the show, and Mr. and Mrs. Claus! Register here.
5. Festival of Gingerbread 
The History Center
Every year, Santa will make a stop to browse the beautiful gingerbread houses at the Festival of Gingerbread. Check out the History Center's calendar to see all the fun events happening on Saturdays – including a visit from Santa on December 7, 1–4 pm.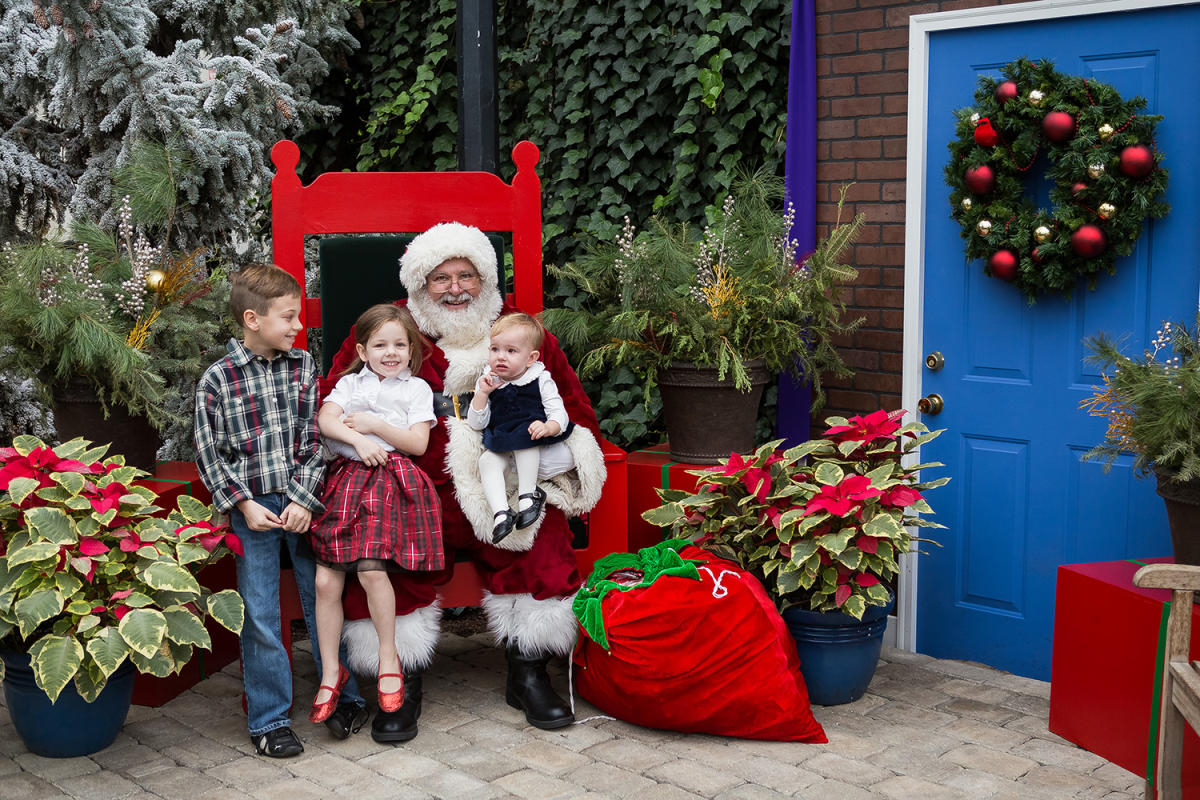 6. Santa and the Reindeer
Botanical Conservatory
December 7, 14, 21 from 12–4 pm
Register now to have breakfast with Santa on December 7! Or, just stop by the Botanical Conservatory on any one of the three Saturdays before Christmas to see Santa and two of his reindeer! Note: Santa takes a break from 2–2:30 pm, but a magician will be doing "close-up" magic tricks during Santa's absence.
7. Picture Time with Santa
Promenade Park
December 6, 7, 13, 14 from 3–6 pm
Bring friends, family, and even your furry friends to Promenade Park for photos with Santa! Have cameras and phones ready to snap the perfect photo. Donations are welcome and will support the Allen County SPCA. Learn more.
8. Live Reindeer at Jefferson Pointe
Santa's plate is quite full this time of year. So every Saturday until December 21 from 5–7 pm, he'll be sending his reindeer to Jefferson Pointe for meet and greets! Plus, you can pay a special visit to the live reindeer on Christmas Eve, 12–2 pm.
9. Glenbrook Square
Until December 24 (check for times)
10. Pictures with Santa
Home Builders Association of Fort Wayne
December 7
Come visit Santa and have your festive photo taken! $10 per photo. Plus, get into the holiday spirit with hot cocoa and cookies. Details.
This post was originally published in November 2016 and has been updated.