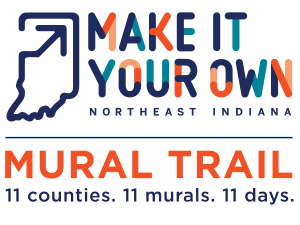 Make It Your Own Mural Trail
In 2019, the Make It Your Own Mural Festival installed 11 murals in 11 counties in 11 days - bringing color and delight to NE Indiana.
Today, you can travel that Mural Trail and enjoy all that this diverse region has to offer.
We invite you to discover the communities of Northeast Indiana with this one-of-a-kind itinerary!
Northeast Indiana Road Trips
Bringing together art, outdoor recreation, history, and travel — the communities of Northeast Indiana have compiled road trip itineraries, and endless opportunities for memories with your family and friends.
Pack up the car and your family, and discover the best of Northeast Indiana with a road trip. From the lakes to the rivers, shopping to wineries, and historical sites and museums to animal discoveries these Northeast Indiana Road Trips are the perfect way to discover the 11 NEW murals that were installed during the Make it Your Own Mural Fest.
The itineraries include activities and attractions that are available whenever you're ready to visit. Plus, the murals have now all been completed for your enjoyment!
Take to the road, enjoy scenic vistas of fields and pastures, and discover Northeast Indiana's hidden gems. What road trip(s) will you choose?