Traveling Well:
Fort Wayne Eco-Friendly Trip Idea
Do the most good and least harm all while having a memorable Fort Wayne experience with your family or friends.
Fort Wayne is continuing to grow through new redevelopment projects, a new signature hotel, and more. But, we can't forget where we came from. Fort Wayne was built on the bounty of our area's natural resources. From our farmland to our three rivers, we are the beneficiaries of our rich natural heritage. We have the choice and opportunity to preserve these wonderful amenities so that they continue to thrive for years to come.
As we continue to improve our destination, we are focusing on making sustainable and eco-friendly practices a priority. Learn how you can explore Fort Wayne more sustainably with our helpful tips and some of our eco-friendly amenities and partners.

Travel Tips
Be the own source of your transportation by walking or biking using Fort Wayne's more than 120 miles of trails.
Pack your reusable straw, ask for paper, or ask to not receive a straw while dining out.
Plus, bring your own refillable water bottle and reusable bags!
Be mindful of parks and preserve regulations and be sure to remain on marked trails.
When possible, support local businesses. We recommend Fort Wayne's many farmers markets where you can buy local goods and produce.
Leave facilities, parks, natural spaces as you enjoyed them or better. Be sure not to leave trash behind and if you have food scraps you can drop them off at the Ft. Wayne Farmers Market on Saturdays.

Dine Local with Fort Wayne Restaurants
In the "City of Restaurants" you can experience the flavors of our diverse food scene and discover restaurants that are focused on eliminating food waste.
Old Crown Coffee Roasters
Old Crown is focused on eco-friendly practices and eliminating waste with their on-site garden offering fresh-grown produce used in the kitchen, and an onsite composting for coffee grounds, filters, and food scraps.
Junk Ditch Brewing Company
Pull up a seat at Junk Ditch for brunch or dinner and be a part of their circular waste-free system where meat, produce, and eggs delivered by Country Garden Farm are taken back to the farm to be fed to pigs and chickens or composted. High-end dining goes hand-in-hand with maximum sustainability at Junk Ditch Brewing Company.
Health Food Shoppe
If you're looking for some snacks for a picnic, be sure to check out the Health Food Shoppe who participates in a local composting service, Dirt Wain, who picks up scraps produced in the Shoppe's kitchen during food prep.
Three Rivers Distilling Company
Three Rivers Distilling Company offers best-in-class spirits made locally in Fort Wayne with a focus on local suppliers including their grains and barrels.
Hop River Brewing Company
Hop River is making the effort to become plastic free by using eco-friendly takeout and taproom supplies they can reuse, reduce, and recycle. They also recycle grains from their brewing process by donating spent grain to local farmers for their cattle.
Local Food Network
Dining and shopping from local Fort Wayne and Allen County restaurants, markets, co-ops is made easier with the Local Food Network whose mission is to support the growth of a vibrant local food marketplace.
Vegan-Friendly Restaurants
Try a plant-based diet while exploring Fort Wayne, and you won't miss out on enjoying some of the finest food in the City of Restaurants.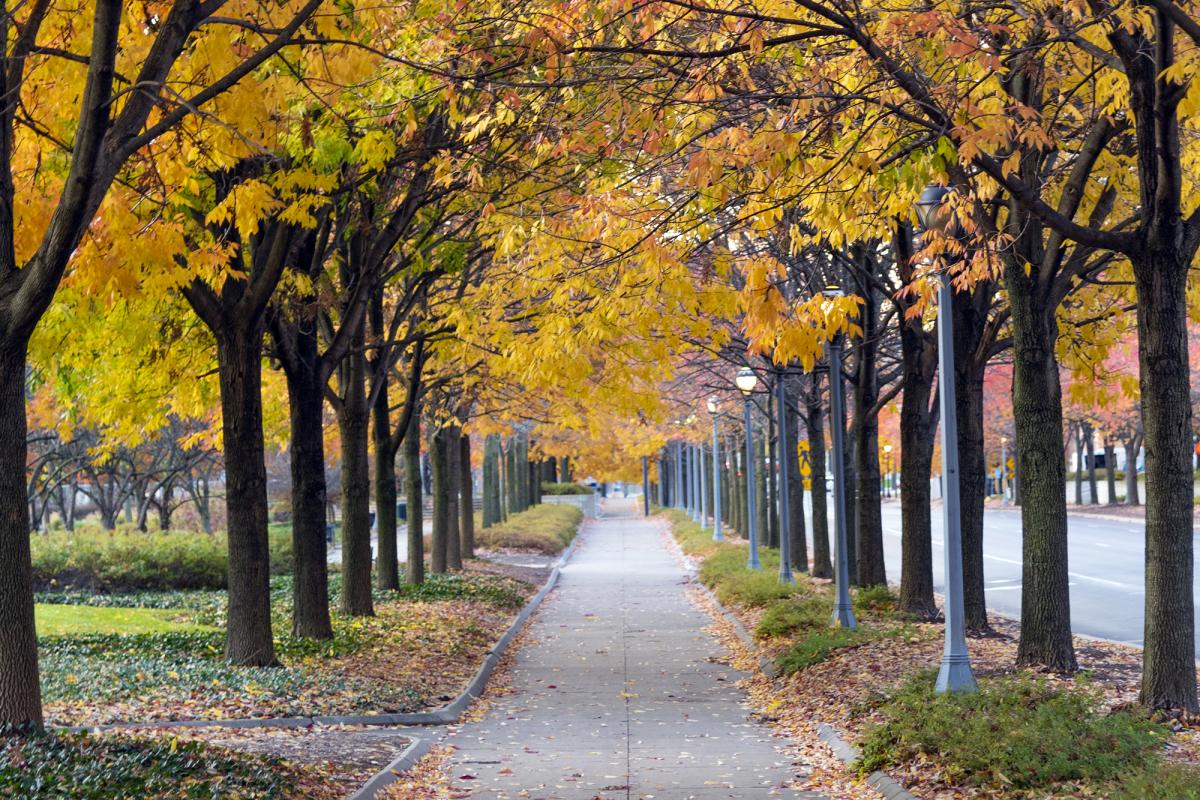 Prioritize Green Spaces
Named as a Tree City USA by the National Arbor Foundation for the past 18 years, upon arrival in Fort Wayne you'll notice our tree-lined streets and award-winning parks that help preserve natural spaces and invite you to explore. For an eco-friendly activity, add some of our favorite green spaces to your getaway:
One of the top reasons families love Fort Wayne is because of the Fort Wayne Children's Zoo, which is also a great place where you can practice sustainability and learn about conservation. While enjoying the nationally ranked zoo's 40 acres, you'll find paper straws and compostable silverware at food counters, recycling containers and recycling bins for maps, and many other areas where the zoo focuses on being environmentally-friendly. Plus, you can take part in helping to save wild animals through the Fort Wayne Children's Zoo Conservation Programs!

Eco-Friendly Local Businesses
Make strides with local businesses going green and making an effort to instill practices that eliminate waste, give back to our community, or focus on sustainability in their facilities.
Utopian Coffee
Be a part of a solution to a better world with Utopian Coffee + Kitchen. Utopian Coffee is a craft coffee roaster focused on high-impact social projects throughout the world including converting cocaine farms to coffee in Columbia and supporting female farmers in Guatemala.
Sweetwater
Creating a healthy world and work environment since 1979, Sweetwater is dedicated to preserving the Earth's natural resources and leaving things better than we find them. From their aggressive recycling program, their LEED Platinum-certified building (one of the first 200 in the world), and 100% paperless internal business processes, Sweetwater is leading the way in the music retail business.
Farmers Markets
With several year-round farmers markets, Fort Wayne offers convenient access to local producers. Browse the stalls for snacks and goodies, or just enjoy the experience of the community coming together around local produce! Plus, markets like the YLNI Farmers Markets offer food scrap drop-offs. If you grab a bite while browsing, be sure to drop off any of your leftover scraps!

Event Spaces Going Green
Hosting your next event, conference, or meeting in Fort Wayne? Consider hosting it at one of these venues that are prioritizing reducing their impact on the environment.
Grand Wayne Convention Center
From using an inhouse cardboard bailer to converting all lighting to LED lighting, the Grand Wayne Convention Center is continually identifying ways to reduce energy use, reduce environmental impact, and evaluating new sustainability projects in every area of their operations.
Allen County War Memorial Coliseum
The Allen County War Memorial Coliseum focuses on recycling materials you might use at your event including glass, plastics, aluminum and cardboard. Plus, they even recycle scrap metal from renovations and maintenance projects. And, energy conservation is top of mind with light fixtures being converted to LED, motion activated lights in some rooms, and motion activated sink faucets are used to reduce water use.
Other Fort Wayne Businesses Doing Better
We're not perfect, but we are working to be mindful of our actions and include more sustainability into our community ethos.
Be a part of our efforts to help preserve our natural assets and community culture on your next getaway to Fort Wayne!