OWAA Spouse Itinerary Suggestions
Saturday, June 2
Meet Visit Fort Wayne staff at the Spouse/Partner/Family Welcome to learn about all of the fun activities we have available in Fort Wayne, Indiana during the conference.
Botanical Conservatory (1100 S Calhoun)
Receive FREE admission to the Botanical Conservatory with your Welcome Package admission coupon.
The Botanical Conservatory is an oasis in the heart of downtown Fort Wayne. Discover lush, seasonal displays, four outdoor gardens, the Tropical Garden with orchids, palms and a cascading waterfall and the Sonoran Desert Garden.
*2:00 PM – Downtown Arts Tour
Discover some of Fort Wayne's public sculptures, mural, and art as you walk to the Fort Wayne Museum of Art (311 E Main Street, admission required), and Artlink Contemporary Gallery (300 E Main Street, FREE admission, donations accepted) on Fort Wayne's main street arts campus.
*Please note the Fort Wayne Museum of Art closes at 6 PM on Saturday, and Artlink closes at 7 PM.
Monday, June 4
*9:00 AM – 12:00 PM – Genealogy Center, Family History Research
Join a Visit Fort Wayne staff member to walk over the Genealogy Center.
Bring along any of your family history information, and trained Genealogists will be onsite at the Genealogy Center to help you get started researching or help you uncover more about your family history.
Or, wander over to the Genealogy Center with your family history information whenever you have available time.
The Genealogy Center is the largest public genealogy center in the United States, and is free to all visitors! Start your family history search or let the onsite genealogist help you uncover more about your family history.
*2:00 PM – 4:00 PM – Self-Guided Tour of the Cathedral of the Immaculate Conception
Discover Fort Wayne's primary Cathedral of the Roman Catholic Diocese known for its gothic architecture. Built in 1859, the Cathedral features exceptional woodcarvings and stained glass.
Additional Activities
Downtown Fort Wayne is the heart of our city – and a vibrant one at that! Discover many arts and attractions, Parkview Field Ballpark, festivals in Headwaters Park, downtown boutique shopping, dining, and much more!
All information, maps and handouts are available at the Visit Fort Wayne table.
*Please meet before each time at the Visit Fort Wayne table located in the Grand Wayne Convention Center. A Visit Fort Wayne staff member will join you in walking to each planned activity.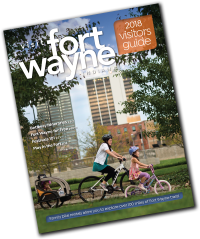 Click here to view a copy of our latest Visitors Guide, or click here to request your free copy by mail!