Take to the rivers in Northeast Indiana and you'll be treated to urban adventures, natural escapes, and calm relaxing waters. Northeast Indiana rivers offer a variety of unique activities from urban river adventures in Fort Wayne, Indiana's second-largest city, to the Wabash River's miles of outdoor fun.
Allen
Founded on three rivers, Fort Wayne offers 8-miles of water trails and other fun riverfront activities in the heart of downtown. Plus, Promenade Park, Fort Wayne's newest attraction, offers the perfect location for enjoying a variety of activities including a kids' canal, ping pong and cornhole games, a tree top canopy trail, porch swings, and easy river access for kayaking and paddleboarding!
Mural Fest mural location: 217 W Wayne St, Fort Wayne, IN 46802
Fort Wayne and Allen County Adventures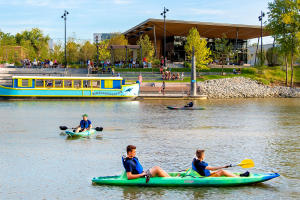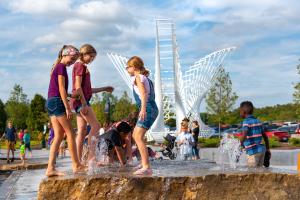 Wells
The Wabash River traverses through the entire width of Wells County. With river entrances at Vera Cruz, State Road 1, the White Bridge in Bluffton and a DNR public access near Markle the river has great access for kayak and canoe paddlers.
Mural Fest mural location: 122 W Market St, Bluffton, IN 46714
Wabash
Whether you're canoeing the Wabash River or exploring the trail beside it you'll find it to be a peaceful and beautiful gem in Wabash County. The Wabash River flows over 475 miles from Ohio through Indiana with two access points in Wabash County. And new for Summer 2020 is White Rock Recreation offering access points for canoeing and kayaking, and restaurant and entertainment. Plus, you won't want to miss the Salamonie and Mississinewa Reservoirs, which offers beautiful space for boating, fishing, beach access, hiking/ exploring and so much more!
Mural Fest mural location: 214 E Main St, North Manchester, IN 46962