Welcome to Fort Wayne!
2021 Meeting Planners International
Great Lakes Education Summit
November 14 - 16, 2021
---
Sunday Night Reception
All attendees are invited to the Sunday Night Reception on November 14th for a look at the beautiful, new boutique hotel, The Bradley in downtown Fort Wayne! Engage in a unique print-making experience with local artist and entrepreneur Julie Wall. Get inspired by the aesthetic beauty of The Bradley's suites with an exclusive tour. Connect with other attendees at Birdie's, The Bradley's rooftop bar and lounge, with drinks and hors d'oeuvres. Don't miss out on this exciting kick off to GLES 2021! VisitFortWayne.com/MPIGLES
After enjoying the hors d'oeuvres at the reception, get a taste of Fort Wayne at a delicious, local restaurant. Find a list of restaurants open on Sunday Nights near The Bradley here.
Fort Wayne's connected downtown offers direct access from the Grand Wayne Convention Center to the Hilton, Hampton, and Courtyard. Find Conner's Rooftop Bar at the top of the Hampton and Burger Bar on the ground level, Conner's Kitchen at the Courtyard, and Starbucks and Features Restaurant inside of the Hilton. VisitFortWayne.com/Connectivity
Catch a show at the historic Embassy Theatre or stroll through the lush and peaceful indoor gardens at the Botanical Conservatory - both attached to the Grand Wayne Convention Center. Or take a short walk to the many shops and attractions within the downtown blocks surrounding the convention center. VisitFortWayne.com/Things-to-do
Looking for a great place to eat while you're in town? Or maybe a little something extra on Sunday Night after the reception at The Bradley? Fort Wayne offers options for every taste and price preference just steps from your convention, with many heated outdoor and carryout options as well. Find a new restaurant to try or a chain favorite at VisitFortWayne.com/Dining
---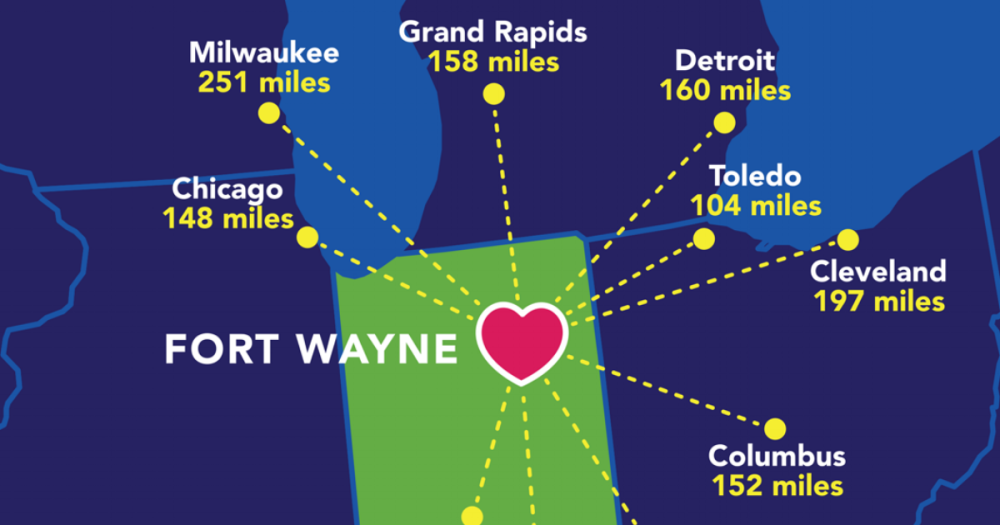 Located in the heart of the Midwest, Fort Wayne offers easy access to and from major Midwest cities like Chicago, Indianapolis and Detroit, making it an attractive regional convention destination. In fact, we are located within 500 miles of half the U.S. population!
And getting to Fort Wayne could not be easier. Drive in on conveniently accessible I-69 and I-80, US highways 30 and 24 or state highways 27 and 3. Or fly into the Fort Wayne International Airport located just eight minutes from our downtown.
FWA serves Northeast Indiana with 4 airline carriers: Allegiant, American Airlines, Delta, and United with 13 non-stop destinations. Uber, Lyft, rental car agencies, and taxi services are also available.
As you explore, take the Fort Wayne Savings Pass with you to enjoy discounts at restaurants, attractions, boutiques, and more! Sign up for FREE and the pass will be delivered to your phone VisitFortWayne.com/SavingsPass
---