Conner's Kitchen + Bar
1150 South Harrison Street, Fort Wayne, IN 46802

(260) 467-1638

Visit Website
Starting from sun up, Conner's Kitchen + Bar will offer Lemon Buttermilk Pancakes that are sweet, but not too sweet, and topped with fresh blueberries and lemon syrup. Feeling nostalgic? Try the thick-cut Bacon, Egg and Cheddar – a twist on your classic drive-thru breakfast sandwich with aged cheddar and peppered bacon.
House-made Cornbread Muffins, Lump Crab Hushpuppies and Smoked Chicken Wings will make the weekend brunch buzzworthy. The must-try Fried Chicken and Waffles come complete with honey butter and bourbon maple syrup.
For a lighter lunch fare, Conner's Kitchen + Bar will offer its Green Goddess, complete with kale, snap peas, celery, avocado, pistachios, and herb dressing. Or for the mightier appetites, guests will be able to try the P.I.G., an in-house smoked pulled pork sandwich with thick-cut bacon, aged Swiss, Carolina gold sauce, and bread and butter pickles.
Guests will find comfort at dinner with Hickory Smoked Baby Back Ribs or Southern Fried Chicken with a hot-honey drizzle. Not to be undone by the favorite Baked Mac and Cheese, complete with cavatappi noodles, thick-cut bacon, English peas, and a parmesan crust. Lighter dishes include the Grilled Salmon with brown butter mustard glaze, snap peas and quinoa pilaf, and Fish Tacos topped with pico de gallo, guacamole, baja sauce, and elote-style creamed corn.
Crafted Cocktails
Happy hour and brunch are nothing without something to clear the palate. Conner's Kitchen + Bar will offer expertly crafted cocktails alongside craft beer and old standbys. Try a Blackberry-Pineapple Sidecar with Starlight Bourbon (distilled in Starlight, Indiana), lemon juice, pineapple and blackberries, or maybe the Toasted Apple with mescal, toasted cinnamon syrup and apple cider soda.
General
$10 to $20 per person:

Vegetarian/Vegan Options:

Gluten Free Menu*:

Only in Fort Wayne:

Outside Dining:

Full Bar:

Nightlife:

Group Dining - 20+:

Private Dining:

Parking Information:

Parking Garage Attached. Credit card only.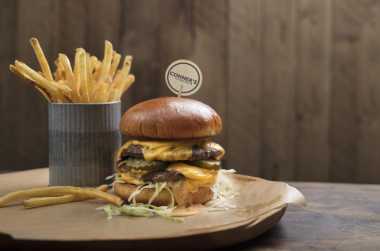 Free Appetizer
Valid: January 13, 2022 - January 1, 2024
Free Appetizer when you Purchase Two Entrees. Exclusions May Apply. Offer Expires December 31,... Read More