As you sip your warm apple cider, look around at the vibrant colors and beautiful scenery. There's so much to love about this season.
But nothing truly says autumn like carving pumpkins with family and friends. This year, why not add a little twist to this timeless fall tradition?
#FWPumpkinPatch Contest: October 1-31
Current Fort Wayne invites you – and your jack-o-lantern – to show off your Fort Wayne pride this October! The best part? All skill levels can join the fun! From seasoned experts to first-time carvers, everyone is encouraged to participate.
Here's how:
Step 1: Select and print one of the Fort Wayne pumpkin carving stencils, or create your own design.
Step 2: Use tape or pushpins to hold the template in place on the pumpkin. With the proper tools – and adult supervision for our younger participants – begin carving!
Tip: Don't forget to save your seeds. You'll want to roast them for a delicious treat when you're done carving.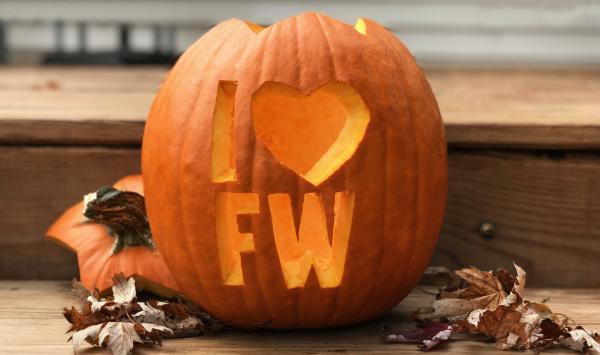 Step 3: Snap a photo of your Fort Wayne pumpkin, and share it on social media using #FWPumpkinPatch. (Photo must be posted between October 1-31 for the contest.)
Since this is a contest, there must be winners! Visit Fort Wayne will announce the winning pumpkins on November 1. 
The Prize: A gift certificate for one DeBrand Fine Chocolates famous Caramel Apple + $40 Tolon gift card.
Remember, win or lose, your jack-o-lanterns are sure to impress the Halloween trick-or-treaters! We are eager to see your designs in the #FWPumpkinPatch.
Get creative, and show the city some love.
See the the official contest rules and guidelines.