The walls of a museum are filled with examples of humans' imagination and dedication, their drive to create something to express the inexpressible. But touching those works of art is almost never allowed.
Architecture is the art we can, and do, interact with. The walls themselves are the work of art, they form the corridors we move through.
Fort Wayne is constructed of such art. Experiencing the art of the city's architecture can be as easy as passing by. When you pause to read the stories each concrete line and layer of brick tells, our city's past reveals itself.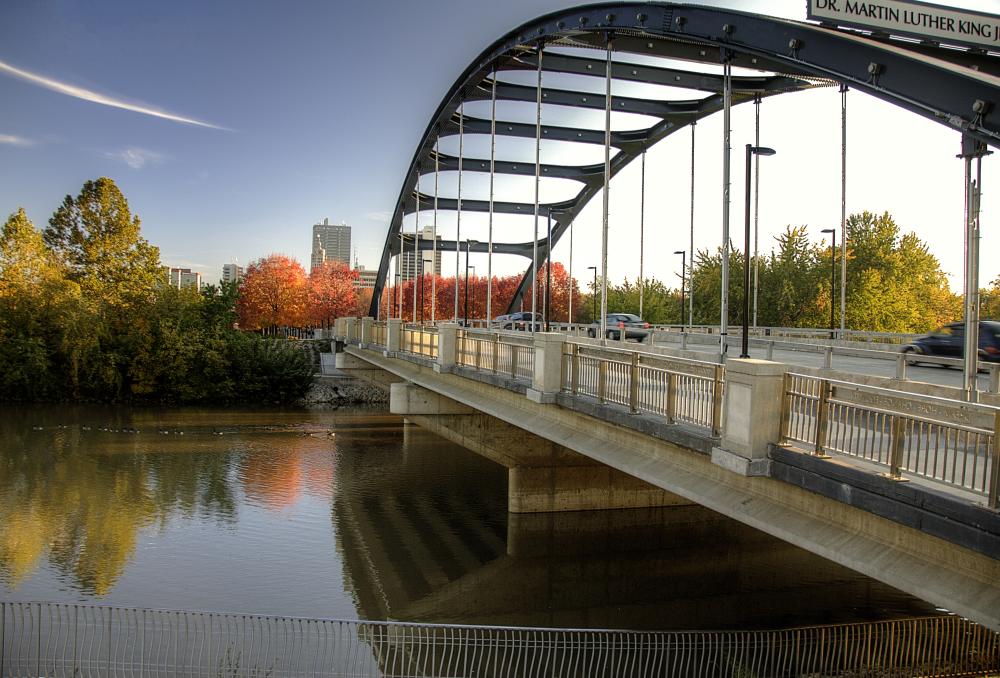 Fort Wayne Architecture
Martin Luther King Jr. Memorial Bridge
The Martin Luther King Jr. bridge was rededicated in 2012 when it received commemorative plaques, decorative concrete, and fantastic lighting along the support struts.
You can enter downtown over the St. Marys however you like -- by foot, bicycle, or car -- thanks to the redesigned pedestrian and bike paths on either side of the road.
On a sunny summer day, it directs your eye both to the skyline and clouds, with its steel beams forming TV-like shapes into the sky. Crossing it will get you where you need to be, but sitting down and taking a minute is a good way to enjoy all it has to offer.
A nighttime trip across the bridge will leave its light lingering in your eyes and mind.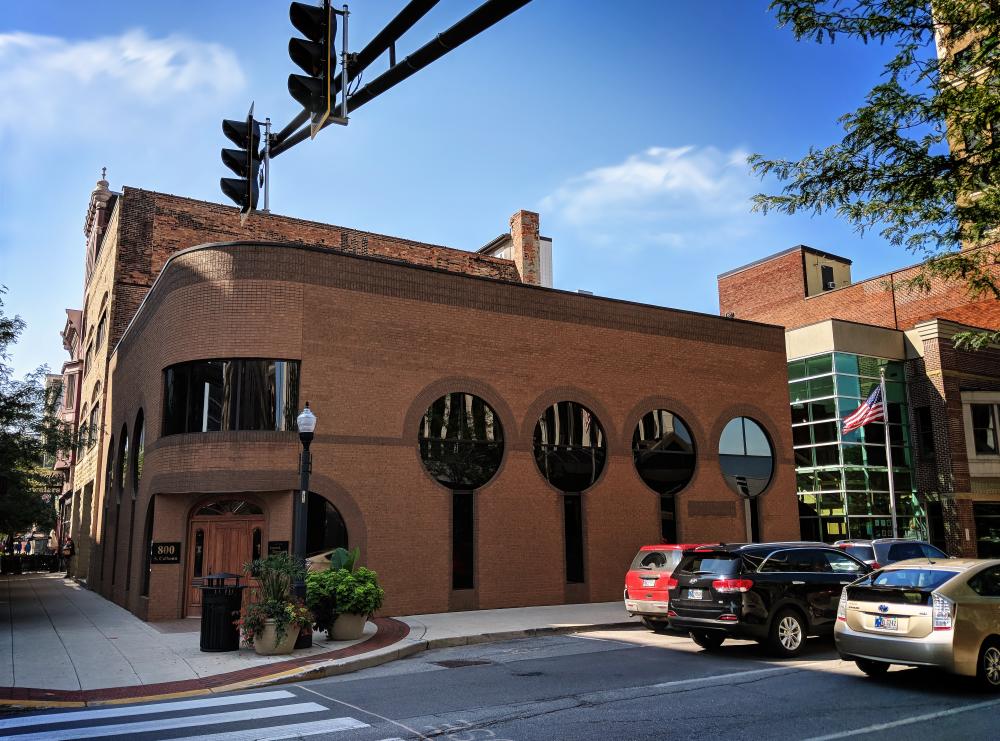 Leonard, Hammond, Thoma, and Terrill Law Offices
Once you're downtown the choices for what to appreciate mount quickly. Two buildings stand out though in my opinion. First, at 800 S Calhoun St is the Leonard, Hammond, Thoma, and Terrill law offices. You'll be drawn to the windows immediately, which stand tall like dandelions made of glass and brick. Its fantastically designed facade gives the corner of South Calhoun and West Berry streets a round, almost quick feeling. Don't just drive by, make sure you walk up to admire the brickwork.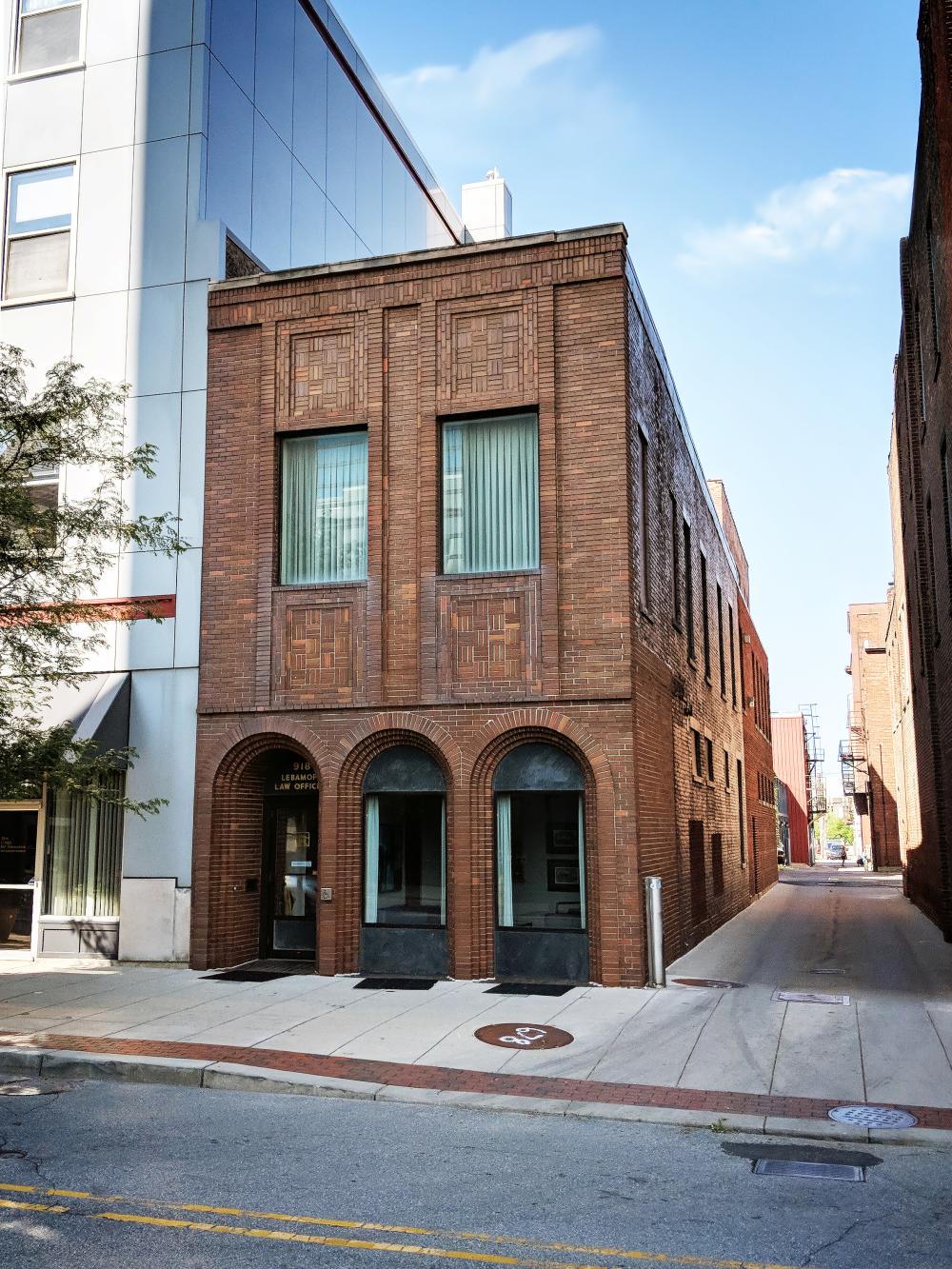 Lebamoff Law Offices
And speaking of brickwork, your visit to downtown needs to include 918 S Calhoun St -- a brief walk from the offices of LHTT. The building will welcome your eyes immediately with its brick arches above windows and door. It's home to Lebamoff Law Offices, owned by Jordan Lebamoff, whose father Ivan purchased the building in 1979.
"When my dad bought it, it was a [fixer upper]," Lebamoff said. "He had to put a call out for bricklayers in the tri-state area." That turned out to be a great idea. The exterior has its wonderful arches, a design which goes back to 1866 when it was owned by Charles and Henrika Schmitz. The building has been many things over the years, including a jewelry store, a tailor, and a dentist.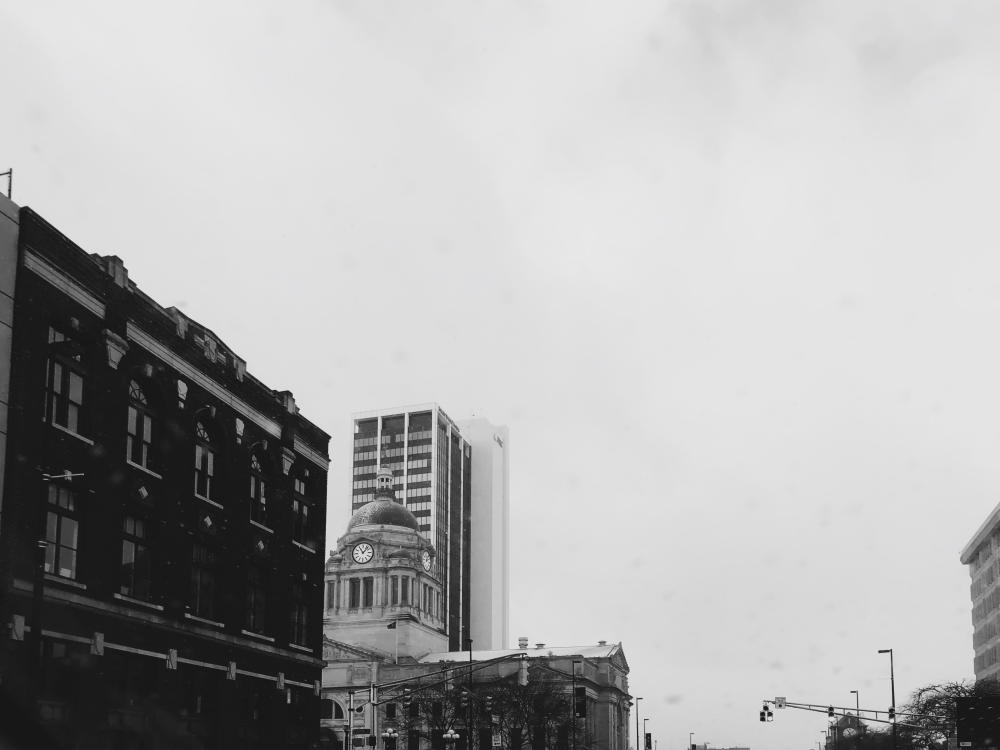 Additional Fort Wayne Architectural Gems
Allen County Courthouse
From the beautiful Beaux Art design Allen County Courthouse with their scagliola interior floors and more murals dotted around the courtrooms. Take a tour of the courthouse, but remember phones and cameras are not permitted.
Arts United Center
Another well known architectural gem is the Arts United Center. Completed in 1973, this 660 seat venue is the only theatre ever designed by Louis Kahn, and the last of his buildings to be completed in his lifetime.
Chief Richardville House
The Chief Richardville House, at his original site at 5705 Bluffton Rd, bears several monikers, including the oldest Native American dwelling in the Midwest, the first Greek Revival Style house in northeast Indiana and the oldest house in northeast Indiana. Perhaps most notable is the fact that it was home to the wealthiest man in Indiana at the time of his death in 1841.
Embassy Theatre
This Spanish Eclectic style movie palace and hotel was designed by A.M. Strauss with consultation by nationally known theater architect John Eberson. The Embassy Theatre's original interior details include walls of French marble in the outer lobby, black and white Italian marble in the inner lobby, a marble grand staircase, and motifs in Spanish, Moorish, Indian and Oriental designs. Restoration work completed in the 1990s recreated the original carpet, lace curtains, and light fixtures. The lobby of the hotel, closed since the 1960s, was also returned to its original grandeur. Most of the hotel space was also used to make way for an improved stage system. Also housed at the Embassy is a Grande Page Organ.
Engine House No. 3
This Romanesque Revival style firehouse was designed by the architectural firm of Wing & Mahurin. Notable details include arched doorways and stall openings in brick, and a stone belt course above a row of brick dentils on the main façade. At one time, it was the largest and best-equipped fire station in town, and also served as a testing site for new equipment and firefighting methods.  It was last used as a fire station in 1972.  It currently houses the Fort Wayne Firefighters Museum.
The History Center
The History Center, located in the former Fort Wayne Old City Hall Building, has served as headquarters for the Allen County-Fort Wayne Historical Society since 1980. The sandstone building was built in 1893 in the Richardsonian Romanesque architecture.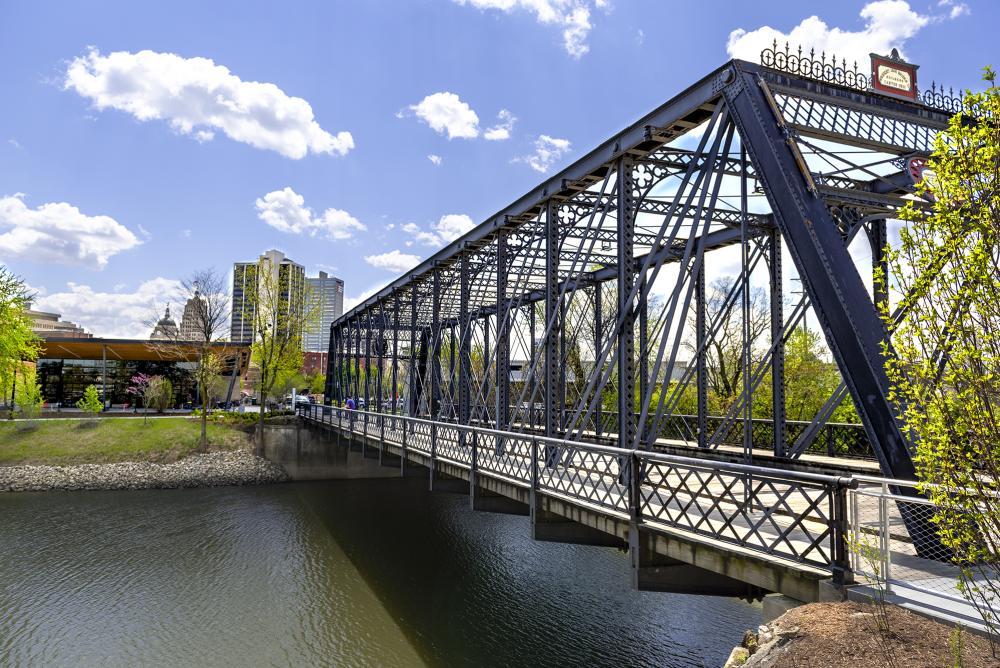 Wells Street Bridge
A site on the National Register of Historic Places, the metal Wells Street Bridge, located near Promenade Park, is famous for its ornate and decorated Whipple truss style. Allen County boasts several Whipple truss bridges, but this truss style is otherwise a rare and significant design. Upon its completion in 1884 by the Wrought Iron Bridge Co., it was an "artistic and technological marvel," according to Todd Pelfrey, executive director of the Allen County-Fort Wayne Historical Society.
Lincoln Bank Tower
Also designed by AM Stauss is the Lincoln Bank Tower located on 116 E Berry St. The Lincoln Tower rises 22 stories high and is broken up into seven tiers as the floors progress. Strauss designed the building in 1930 to rival Tribune Tower in Chicago. The building has an Art Deco style that was found in many skyscrapers of the Depression-era -- very similar to the Empire State Building in New York City. The Lincoln Bank Tower is still a Fort Wayne icon to this day and stood as the tallest building in the city until the 1970s.
Fort Wayne Food Tour
For an experience that combines the flavors of Fort Wayne and our history, book a spot on a Fort Wayne Food Tour (April-October.) Get a taste of four downtown Fort Wayne restaurants, and learn about the history of Fort Wayne and the architecture dotting the downtown skyline!
There are also many notable houses located around Fort Wayne that were designed and built by notable architects and artists. Worth mentioning is the Hanselmann House by Michael Graves (10220 Circlewood Dr), the John D. Haynes House by Frank Lloyd Wright (3901 N Washington Rd), and the A.C. Wermuth House by Eliel and Eero Saarinen (6600 N Clinton St; on the Concordia Theological Seminary campus).
When you're done appreciating the marvels of Fort Wayne, stay downtown and walk around. Remember, don't be afraid to look up. There's a lot to see.
Learn More About Fort Wayne's Public Art!
This blog was originally published in April 2019 and has been updated.