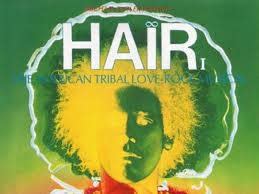 Ah, the good old days of, "Let the Sunshine In" and "Aquarius" are making a rousing comeback to the Fort on Tuesday, March 11, 2014 when Broadway at the Embassy brings Hair to the Embassy stage. The rock musical tour is giving only one performance at the Embassy Theatre at 7:30 p.m. Tuesday, March 11, 2014.  Baby boomers, if you recall the days of tie-dyed shirts, sandals, and the 2-fingered "Peace!" sign, you'll be ready for a nostalgic trip back down the years of your youth.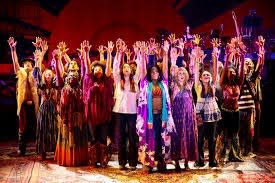 The exuberant 1960s program highlights a group of young folks searching for peace and love during the anti-Vietnam War days. 
Probably the one thing the earlier, first audiences remember most back then was the dimly-lit 20-sceond scene of total frontal nudity of the cast, and indeed, the Embassy website cautions that the controversial performance is for "mature audiences," and that parental discretion is advised, especially for the 12-and-under crowd.  There are, "profanity, nudity and simulated drug use" throughout the show. The run time is two hours and 25 minutes, including one 15-minute intermission.
Tickets may be purchased at Ticketmaster.com or by calling the Embassy box office at 260 424 5665.  The box office is open from 10 a.m. to 6 p.m. Mon – Friday, or visit  the Embassy Theatre website.You can also find more information at Visit Fort Wayne. Hope to see you at the second dawning of the Age of Aquarius on March 11, at what has been termed as "the ultimate rock musical!"