The public is invited to celebrate the holiday season with the University of Saint Francis (USF). Below are a few events you don't want to miss:
Christmas in the Castle, Dec. 1, 2, 7, 8 &9. : Historic Brookside, the former Bass family mansion, will be decorated for Christmas by local florists and designers. Visitors can view all three floors of the mansion as it comes alive for Christmas. Tickets can be purchased on the days of the event in the North Campus lobby (across Spring Street from Brookside). Ample free parking is available at the North Campus. Golf cart shuttles will be available for those with mobility difficulties. Admission is $5 per person, $20 maximum per family of up to six people, including parents and children. Tickets can also be purchased online at www.sf.edu/christmas.
Fair Trade Alternative Shopping Bazaar, Sunday, Dec. 2 from noon-5:30 p.m.: Students in Free Enterprise (SIFE) present high-quality, fairly-traded hand-crafted items from disadvantaged producers all over the world at the Fair Trade Alternative Shopping Bazaar at the North Campus. Fairly-traded items are sold by artists who earn a fair price in producing them, receive access to credit and training, and maintain long-term relationships with organizations rooted in the principles of human dignity and economic justice.
Living Nativity, Sunday, Dec. 2 at 6 p.m.: As Advent begins, members of the university community present a living Nativity as a witness to the power and presence of God's incarnate love in the world. The character of Saint Francis will narrate the Christmas story as it unfolds, and all gathered will sing "Silent Night." The living Nativity will be presented in the amphitheater next to the Pope John Paul II Center. Parking is available off Leesburg Road, and there is no admission charge. A petting zoo with the animals for the living Nativity will be available for children from 5-5:50 p.m. free of charge at the living Nativity site.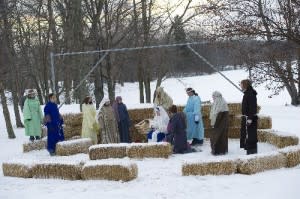 Lighting of the Lake, Sunday, Dec. 2 at 6 p.m.: Vigil lights will encircle the area of Mirror Lake closest to Spring Street for a shining symbol of Christmas. Those who wish may dedicate one or more luminaries at $10 per luminary to a loved one, in memory of someone special, in recognition of a special occasion, or just to wish a student good luck with final exams. Call (260) 399-8037 to order luminaries by Dec. 1. There is no charge for admission.
The University of Saint Francis is just a few minutes from downtown. The campus has a certain charm about it. Don't forget your camera to capture all of the holiday fun!