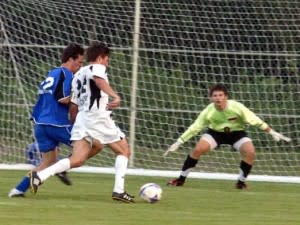 Nothing brings out the best and worst of the American people better than youth club soccer. The support that kids receive from their parents is mingled with passion and die-hard fan-hood.
Fort Wayne often plays the setting for this energetic scene. Specifically, The Plex North across from the IPFW campus frequently hosts events that could easily be confused with scenes from a sports movie. The Plex boasts seventeen of the best-kept soccer fields in Fort Wayne. It seems that every time I revisit them, the goals have been upgraded and the lines have been repainted. The grass is brilliantly maintained and perfectly paced. The two stadium fields actually host a showcase every year of the best college teams in the country. I've had the privilege of watching national champions and current US. National Team members play on these.
It's no wonder that this venue is home to one of the most dominant soccer clubs in the state of Indiana, Fort Wayne United. This club is actually central to one of the biggest trademarks of The Plex, the sporting environment. It's gigantic. Whether indoors or outdoors, there's always a game going on. There also always seems someone talking about the latest worldwide soccer news.
The pro shop is filled with ready-to-go equipment, as well as memorabilia from your favorite teams. It's like this place was plucked right out of Europe and dropped in the heart of the United States. I've traveled on my share of soccer tournaments. One of the most challenging things about them is finding something to do between games. Fort Wayne has never fallen into this trap.
Minutes away from The Plex, Glenbrook Square Mall continues to be one of the most trafficked places in the city. If you need a protein shake to recover after a game, head over to the Smoothie King on Coliseum Blvd. for some of the best tasting, nutritious shakes you'll ever taste. If you need a carb-loading meal the night before a big event, try one of Fort Wayne's trademark Italian Casa Ristorantes just off of coliseum Blvd. on Parnell. If you're simply looking to crash between games, Regal Coldwater Cinemas on Washington Center Rd. is always showing the latest films and is only a short drive away from the fields.
The Plex North is a picture-perfect place to host a soccer tournament. It holds everything needed for a successful weekend. Top notch fields and a closeness to tons of entertainment round this out as one of the best tournament venues you could ask for.