Update: Visit the Science Central page for the latest events.
Does your 5-year old have a palate of a...well 5-year old?  Then a new exhibit at Science Central should be on your "to do" list for a family outing.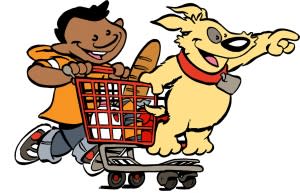 "To My Plate and Beyond" is an the interactive exhibit that illustrates the U.S. Department of Agriculture's tool. Kids will learn all about the USDA'a five food groups essential to a healthy diet: fruits, vegetables, grains, proteins and dairy. You can catch the exhibit from now until May 4. This exhibit will encourage kids to eat better by drawing them in with an interactive approach. For example, they can learn how easy it is to shop for food and grow their own, plan meals and eat together.  Build a healthy plate, using interactive hands-on activities. It's never too early to start learning about how to eat a balanced meal and maintain a healthy weight. This exhibit provides the perfect opportunity for parents to have a dialogue about what it means to eat healthfully. And parents better brush up on their knowledge of nutrition, as there is a short quiz that will help visitors understand the exhibit's key messages, such as making half of the food on your plate fruits and vegetables, switching  to fat-free or low-fat milk, and enjoying  your food, but eating less. The exhibit was created by the Purdue Agricultural Communication Exhibit Design Center and specialists and faculty in the Department of Nutrition Science. The exhibit was constructed through funding provided by the American Dairy Association and Indiana's Dairy Farm Families. Science Central is a regional resource that provides inspiring and fun hands-on science education for people of all ages. Through more than 120 exhibits, school tours, distance learning programs, and weekend events, they bring the fun of science to more than 130,000 children and adults, annually. In short, they make science fun. Science Central is open Wed.-Fri., 10 am to 4 pm, Saturday 10 am to 5 pm, and Sunday noon to 5 pm.