If you have a few extra minutes in downtown Fort Wayne, make a quick stop at the Lincoln Tower!  It's one of the Fort's most beautiful and historic gems.  Located across from the courthouse downtown on Berry Street, it was built in the late 1920s and completed in 1930.  This ARCH member is a source of pride in the city, as it was Indiana's tallest skyscraper until 1969.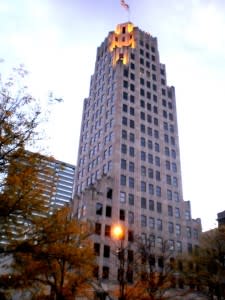 If you're not afraid of heights, you can schedule a reservation to visit the observation deck!  This is definitely an experience I'll never forget.  You can read more information about this here.

I enjoy bringing visiting friends to the Tower to show them the beautiful, Art Deco interior of the lobby.  It really is breathtaking!  (Click here to glimpse a few photos of the building's mechanisms and to read a bit of its history.)

I also like to pop into the soda fountain at the front of the building for a quick snack.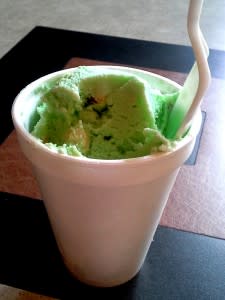 Although the soda fountain itself has modernized a bit – a small plasma TV plays quietly for customers to watch – it hasn't lost its original charm.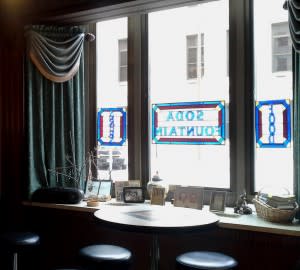 The original stained glass window proudly advertises snacks and ice cream, and a beautiful, marble fire place graces the seating area.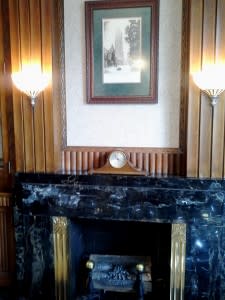 Stop in sometime to grab a quick bite or stay awhile and visit the friendly soda fountain employees.  Their willingness to strike up conversations with strangers reminds me of how personable and charming Fort Wayne really is!
The Lincoln Building is located at 116 E. Berry St., downtown.  The soda fountain is open Monday – Friday, from 7:00 a.m. – 3:30 p.m.  You can reach it at 260-422-6688.