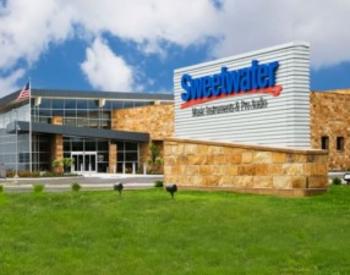 There's no way else to describe it: Sweetwater Sound is a musician's dream come true. As one of the largest purveyors of and resources for music and audio gear, Sweetwater means business.
Here's what you can expect when you visit their campus, just off U.S. 30:
Workshops: Sweetwater regularly hosts workshops put on by legendary producers such as Alan Parsons and Chris Lord-Alge, as well as musicians like Joe Satriani, Adrian Belew, Chick Corea, and Victor Wooten. These sessions are open to the public. Just register on their website.
Open Jams: Join other musicians or aficionados the second and fourth Tuesday of the month for a family-friendly Open Acoustic Jam. Held in Sweetwater's Conference Hall from 5-8pm, these jams are open to players of all skill levels, and guitarists of all ages are encouraged to attend. This is a great opportunity to connect with other people with similar interests.
Gear Fest: If you're toying with the idea of buying your own gear, the annual Gear Fest is a great time to see what you're missing. Scheduled this year for June 6-7, experience exciting giveaways featuring thousands of dollars' worth of gear, as well as hundreds of manufacturer exhibits and dozens of workshops. And for the best part: it's free!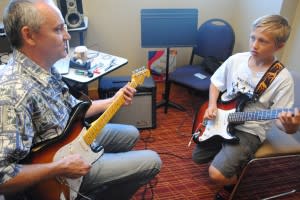 Academy of Music: Itching to dive into the music world? Here you can take advantage of lessons and classes for guitar, bass, keyboards, drums, voice, and recording. Whether you're just starting out or taking your skills to the next level, staff can match you with the right instructor for your playing style, personality, and creative goals.
Insider's Note: The family-friendly environment is ideal for parents waiting or for the time before lessons. Guests can enjoy free Wi-Fi, a free arcade, and a wide selection of refreshments.
Although not directly related to their products, their gourmet style cafe is not to be missed. I have eaten here a few times, and I assure you there is something for everyone. Also, it's worth noting that the LEED-certified building conserves water, energy, and resources. Sweetwater is just plain cool all around!