Recently, Fort Wayne has enjoyed an explosion of locally-owned restaurants that have put us on the national culinary map. Most of them focus on locally sourced ingredients, as well, which Northeast Indiana foodies have been craving for a long time. We are quickly becoming a destination food spot, so if you're thinking of visiting our city, here are my votes for Restaurants Worth Traveling for.
The Golden
E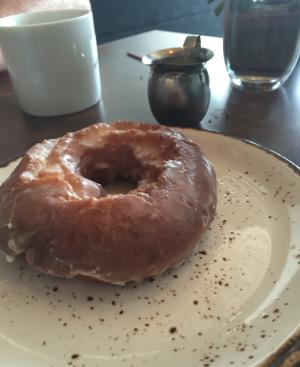 arlier this year, two chefs from our region's only AAA Four Diamond restaurant ventured out on their own and opened The Golden in the new Ash Skyline Plaza downtown. Big city feel meets small town culture in this culinary rock star. The ambiance is urban and ultra clean, with modern décor and an open-concept kitchen. Belly up to the expansive bar, order a finely crafted cocktail and make some new friends.
The menu offers such a unique experience, you can't help but talk about it with your neighbors, and you'll definitely want to share with your tablemates so you can try as many dishes as possible.
The menu changes daily because the food is sourced from the restaurant's own garden and local farmers throughout the region, so check out the website, or follow them on social media for the latest offerings.  
The Golden also serves brunch on Sundays from 10 a.m. to 2 p.m., featuring pastries and donuts from my all-time favorite pastry maker Hetty Arts Pastry. If the Old Fashioned Sour Cream donut is being served, get it. You will not be disappointed.
898 Harrison Street, Fort Wayne, IN 46802, (260) 710-8368, www.goldenfw.com
Hours
Lunch
Tuesday-Friday, 11 a.m. to 2 p.m.
Dinner
Tuesday-Thursday, 5 p.m. to 10 p.m.
Friday-Saturday, 5 p.m. to 11 p.m.
Bar
Tuesday-Thursday, 11 a.m. to 12 a.m.
Friday, 11 a.m. to 2 a.m.
Saturday, 5 p.m. to 2 p.m.
Brunch
Sunday, 10 a.m. to 2 p.m.
Tolon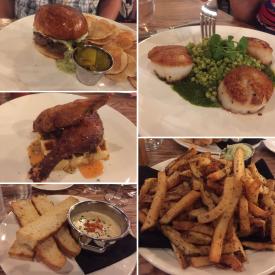 Former Eddie Merlot's executive chef Matt Nolot and his wife, Nicky, took a leap of faith late last year and opened our city's first farm-to-fork restaurant downtown adjacent to The Historic Landing, Tolon. The ambiance is rustic comfort and the menu sings the same tune.
Like The Golden, ingredients are sourced locally and the menu changes often. It also boasts a creative craft cocktail list. If it's available, you must try the rabbit. I am typically not a fan of rabbit, but the savory salty way in which this dish is prepared will knock your socks off. It is comfort food at its finest.
My personal favorite on the menu is the Duck Fat Frites, served with duck egg and basil aioli and smoked sea salt. The fries are cooked to a perfect outer crispiness and salted just right. My mouth is definitely watering just thinking about them.
614 S. Harrison Street
Fort Wayne, IN 46802
(260) 399-5128
Hours
Tuesday-Thursday, 11 a.m. to 9 p.m.
Friday, 11 a.m. to 10 p.m.
Saturday, 4 p.m. to 10 p.m.
Junk Ditch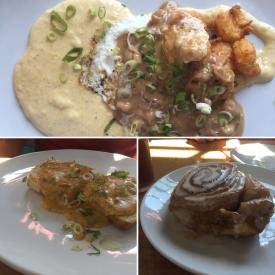 When chefs from my favorite food truck opened up this brick and mortar establishment, I knew I'd love it, but I wasn't prepared for how superb the entire Junk Ditch experience would be. The ambiance is industrial warehouse turned upscale restaurant, which is commonplace in bigger cities but still rare in Fort Wayne.
The menu changes often and is offered in a format that encourages sharing with a nice selection of large and small plates. It also serves its own beer.
Highlights from a recent trip for dinner include Strawberry & Beets salad with fennel, arugula, nasturtium, and sesame seeds; Crispy Veal Sweetbreads with charred cauliflower, tomato, lemon, thyme, pepitas, and white anchovy; and Duck with broccoli, corn, onions, arugula, mint, cherries and pistachios.
Junk Ditch is open for brunch on Saturday and Sunday and my hands-down favorite dish is the Shrimp and Grits, served with polenta, scallion, fried egg, bread crumbs, and shrimp gravy. Another must-try is the cinnamon roll… best I've ever had.
1825 West Main Street
Fort Wayne, IN 46808
(260) 203-4045
www.junkditchbrewingco.com
Hours
Monday, 5 p.m. to 12 a.m.
Closed Tuesdays
Wednesday-Thursday, 11 a.m. to 12 a.m.
Friday, 11 a.m. to 1 a.m.
Saturday, 10 a.m. to 1 a.m.
Sunday, 10 a.m. to 8 p.m.