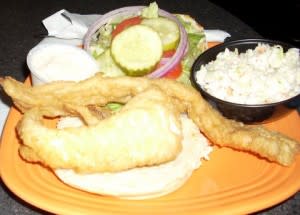 I recently experienced a coincidence when dining that was so pleasant I wanted to share. My husband and I were recently in New Haven, east of Fort Wayne, and decided to stop for lunch at Rack & Helen's Bar and Grill (525 Broadway Street, 260.749.5396, http://www.rackandhelens.com/) in the city's downtown.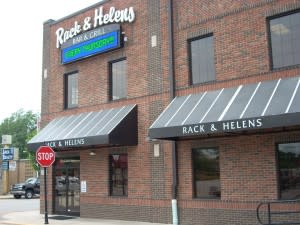 We had heard about this place from friends who lived in the area that the food was great and thought we'd give it a try.
We were impressed with the brick exterior. The interior was attractive with wainscoting and plentiful seating at tables and the bar. A dartboard and TVs provided entertainment options. It was quiet because it was late afternoon so we imagined it would be crowded later with a dinner crowd.
Our food was just as good as our friends had suggested. My husband ordered a white fish sandwich with cole slaw. He usually orders fish and was pleased with the amount and quality.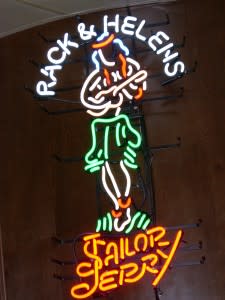 I had recently come under the spell of Cuban sandwiches and ordered that sandwich from the menu. I was not disappointed. This Cuban was succulent with juicy pulled pork and thinly sliced ham. Pressed together with two slices of Swiss cheese, pickles, mustard and mayonnaise between slices of a grilled bun and I was in heaven. I don't know why every restaurant doesn't carry Cubans on their menus! They are one of the tastiest sandwiches around.
The next day I was on Fort Wayne's west side visiting my mother. We were searching for a place to eat. It was slightly challenging because of accommodations due to her wheelchair.  As we drove on Hillegas Road headed north, we spied an attractive sign with the words: Coyote Creek Golf Club (http://www.ccgconline.com/).
I had heard about this place re-opening with a new restaurant that was open to the public. Mom and I decided to stop and see what it was like.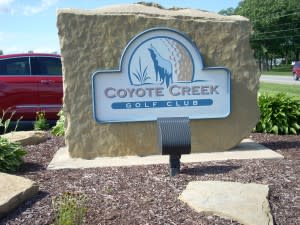 Our expectations were exceeded immediately.  
Anyone who pushes a wheelchair knows the difficulty of pushing on uneven surfaces or worse, carpet. The hardwood floors at Coyote Creek made this activity quite easy.
It was early so few people were dining but the wait staff seemed eager to serve. They seated us at a table overlooking the golf course. It was a lovely view while we waited for our orders to be filled. We appreciated the distance between tables, which again made maneuvering with the wheelchair an easy action.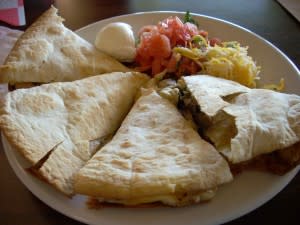 The food was delivered quickly and Mom enjoyed every bite of her burger, slaw and onion rings. My quesadilla was delicious and more than enough. I carried out a container to finish it later. It was a great visit.
Imagine my surprise when someone told me a few days later that the owners of Coyote Creek also owned Rack and Helen's where I had eaten the day before. While the restaurants are different in atmosphere and types of customers, I could sense similar strengths.
The owners emphasized the quality of food and surroundings in both places. Neither place was pretentious but friendly and comfortable.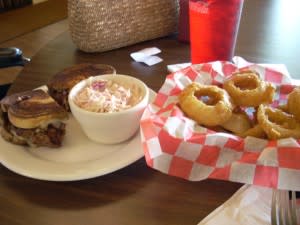 I know we'll return soon to Coyote Creek since it is close to where Mom lives and she enjoyed it.
And when we're in New Haven again, a stop to Rack and Helen's will be part of our schedule.    
Coyote Creek Golf Club
4935 Hillegas Road Call
260-755-2639 for reservations.
Hours: 11 a.m. to close (at dark) Tuesday through Sunday, and from 2 p.m. to 9 p.m. on Monday.  
Rack & Helen's Bar and Grill Hours: Open daily 11 a.m. Sunday, Monday, & Wednesday— 1:00 am Tuesday, Thursday, Friday, & Saturday— 3:00 am
Age Requirements Must be 21 to enter or 18 with parent or legal guardian
Sundays: All ages family room dining from 11-8 Smoking: No