When I arrived at the Georgetown Entertainment Center, I was surprised at how packed it was on a Sunday afternoon. Every single bowling lane was taken. With all of the renovations, I could barely remember what the old place used to look like. The lobby area was new and updated, as well as the bowling lanes. The Pro Shop was relocated to the other side of the building, and the interior of the store was all new.
From the bowling area, I walked over to the spacious arcade zone. I talked to the staff about the renovations that were done, and here are some of the new things you will find at the Georgetown Entertainment Center.
New at Georgetown Entertainment Center
Interactive Theater
The 4D Dark Ride is the name of the new interactive theater installed in the arcade area. It has 3 games—one with zombies, another with werewolves, and a western-themed shooting game. A dark curtain completely encloses you and 3 other players as you play. This ride was quite popular while I was there, and it was always occupied.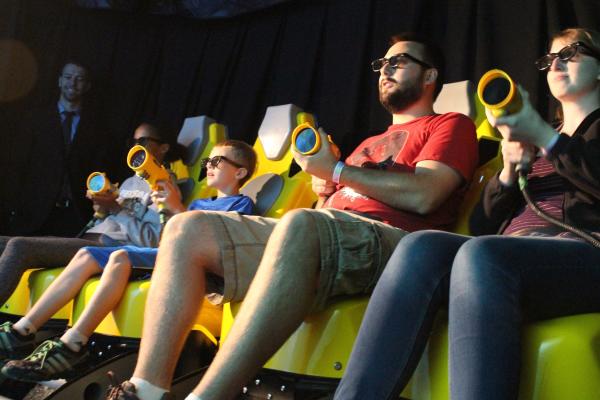 Locker Room
This is the name of the new restaurant within the Georgetown Entertainment Center. It's very large and spacious, and it's connected to the renovated bar. There's even an outdoor seating area. 
The restaurant is sports-themed, and there are several screens where you can watch games. 
Their menu is similar to that of Crazy Pinz, which Georgetown Entertainment Center is a part of, according to staff. Menu items include burgers, quesadillas, pizza, appetizers, and other bar food.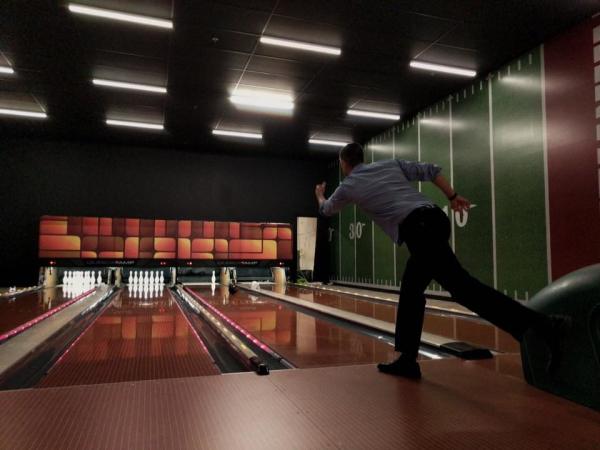 Private Lounge
You can now rent a private lounge at the Georgetown Entertainment Center for your special occasions. The completely new area is spacious and has four private bowling lanes. It also has plenty of seating—perfect for a party. 
You can rent the room per hour, and up to 24 people can bowl at once. You can choose from a number of packages--some that include food, drinks, and free shoe rentals for your guests.
Arcade Games
There are additional arcade games added to the old favorites. The arcade area is very large, with plenty of room for kids to run around. 
A birthday party was underway while I was there, with the parents seated at the entrance of the arcade so that they could easily watch their little ones enjoy the activities. 
In addition, to the games and bumper cars, there is also a small rock climbing game.
Coming Soon…
The "Party Room", located right across the way from the bowling lanes, was still under construction when I visited. I'm not sure what this large area will look like when it's finished or what exactly it will be used for; but judging from the other recent projects, it will be appealing to visitors.