An upcoming event combines four of my favorite things: science, cocktails, food and fundraising. On November 2, Science Central will host Mixology 201: The Science of Cocktails, a fundraiser featuring award-winning mixologists from around the country, scientific food demonstrations, and gourmet food selections. What is mixology? It's the art and science of mixing cocktails, and this year's mixologists are among the best. Arthur Black from Miami is an extreme food and wine enthusiast. Bobby Gleason from Las Vegas has been a professional bartender for 25 years and is a recognized champion mixologist. Tim Atz from Kendallville graduated at the top of his class from Professional Bartending School of America accredited Professional Mixology course and has been working as an independent professional alcoholic beverage adviser ever since.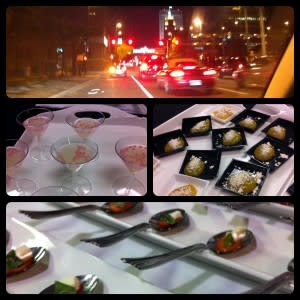 Students and professors from Ivy Tech's culinary program will be at the event, as well, conducting food demonstrations using cutting-edge gastronomy tools. They will prepare Granita Salad and Vinaigrette foamed in liquid nitrogen, Lobster Benedict with Proscuitto Crisp topped with Spherified Hollandaise and Riseling Egg, and Hot Maple Ice Cream on Bacon dusted Elephant Ears. The menu for the evening will be prepared by Baker Street's chef Chad Kyle. Here's a glimpse of what to expect:
Aged Tillamook cheddar soup shooter, whole grain mustard pretzel crouton, American pale ale air
Bourbon & brown sugar poached pumpkin thimble w/ bruleed Brie and fried sage leaf
Prosciutto wrapped dates stuffed w/ drunken goats cheese
Caramelized onion and fennel tart with house cured Scottish salmon and crème fraiche
Endive stuffed w/ dos Equis grazed chorizo and Manchego cheese
Kentucky bourbon and maple glazed pork belly w/ Fiji apple compote & shaved celeriac slaw
Cracked pepper & Fontina cheese puff pastry w/ Moscato macerated cranberries & chive
Champagne-soaked watermelon cubes w/ 25-year aged balsamic syrup
Skewered cherry tomato, fresh mozzarella, Chianti roasted pearl onion, and Thai basil leaf
Chambord sherbet w/ cracked espresso bean and caramel tuille
Pumpkin ale ice cream in a cinnamon-spiced white chocolate cup
Grand Marnier-infused dark chocolate truffle w/ toasted almond dust and sea salt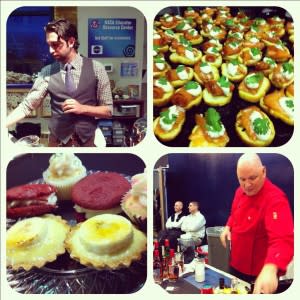 And all of this to raise funds for Science Central, one of downtown Fort Wayne's precious gems. Tickets for the event are $60 per person, $100 per couple, or $350 for a group of eight tickets. For more information, visit us at www.sciencecentral.org/mixology.htm, or call 260-424-2400 X423.