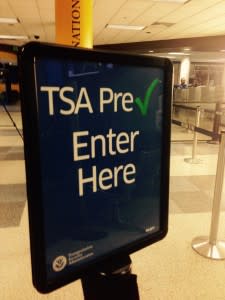 On Friday, October 24, Fort Wayne International Airport and the Transportation Security Adminstration (TSA) announced that FWA is the latest airport to debut TSA Pre-Check! Qualifying passengers can use this new program to make traveling and getting through airport security a little easier. FWA is the most recent of more than 120 airports offering this program, and there are plans to roll it out to even more locations in the future. You may be wondering what exactly TSA Pre-Check is and how it is different than the standard TSA screening at the security checkpoint. TSA Pre-Check is a program that provides travelers with expedited screening at the TSA security checkpoint when traveling on a participating airline. The benefits of enrolling in the program are that you will no longer need to remove your: shoes, 3-1-1 compliant liquids from your carry-on, laptop and other tablet devices from your bag, light outerwear and coats, or your belt during the process. This allows for you to be in and out of security quickly and efficiently, and on the way to your gate worry-free. To enroll in the TSA Pre-Check program you must apply and be accepted. All eligible US citizens and lawful residents may apply. The application processes goal is to be easy and pain free, but also to continue to provide airline passengers a safe and secure experience all around. There is an $85 administrative fee that goes along with your application. Approved applicants will receive a known traveler number, which is good for five years. After the five year mark, participants are welcome to renew their inclusion in the program, and TSA has outlined five easy steps to apply for TSA Pre-Check:
1. Visit tsa.gov to learn more about the program, and the application process.
2. Visit an application center to provide the required information, documentation, as well as fingerprints.
3. Pay the $85 fee.
4. Approved applicants will receive their known traveler number via US mail within 2-3 weeks.
5. Add the known traveler number to each participating airline frequent flier profile, or have your TSA Pre-Check information available when making air travel reservations.
Airlines participating in TSA Pre-Check at FWA are American Airlines, US Airways, Delta and United Airlines. You will know you are eligible to use the TSA Pre-Check lane if the indicator appears on your boarding pass. Your TSA Pre-Check indicator will also appear on your boarding pass if you are using a mobile device. We hope that having a TSA Pre-Check lane in addition to our other security lanes here at FWA will make your travels even easier and more convenient! For more information on the TSA Pre-Check program, visit the TSA website. For more information on Fort Wayne International Airport, visit fwairport.com. Happy flying!