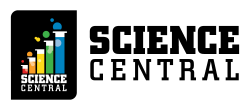 What do dogs really want when they're whining and barking? Are chimpanzees as smart as humans? How are birds so resourceful?Starting April 19, Science Central will try to answer all of these burning questions and more with their new exhibit, Wild Minds: What Animals Really Think. This traveling exhibit will shed light on some of the cognitive skills many species demonstrate, that have long been thought to be unique to humans.
Using a variety of videos, games and displays, Wild Minds will show visitors how different animal environments have shaped thinking abilities and explore evolutionary links between humans and animals. This great exhibit is funded by a grant from the National Science Foundation and developed in cooperation with Science Central and the Fort Wayne Children's Zoo, as well as four other zoo and science center partnerships from around the country.
These include some pretty big, and well known, places including the New York Hall of Science and the Staten Island Zoo; Oregon Museum of Science and Industry and the Oregon Zoo, California Science Center and the Santa Barbara Zoo; COSI (Center of Science and Industry) and the Columbus Zoo and Aquarium. We are lucky to have Wild Minds coming to Science Central!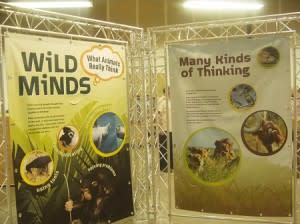 The exhibit will feature the opportunity to use your own brain power to look into the minds of some of your favorite animals. You can examine brains from a parrot, dog, chimpanzee, dolphin and human to compare animal brains and human brains by thought and complexity. Put on your thinking cap to think about how you would get a peanut out of a tube, and then watch a video comparing how children and apes did when faced with the same problem.
If you've always wondered what your furry friend really wants when they're barking, listen to a variety of different dog barks and try to determine what the dog is really communicating. The fun doesn't end there! There will be a number of other stations where parents and kids alike can look into the minds of some of the worlds smartest animals, and see just what happens when the wheels start turning.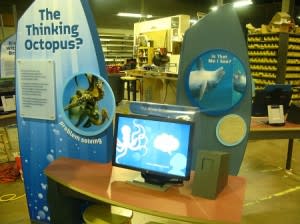 Wild Minds will be featured at Science Central from April 19 until September 8 – a great time to take the kids to the zoo, then head to Science Central to learn more about the animals they just saw! Science Central is open Wednesday through Friday 10-4, Saturday from 10-5 and Sunday 12-5 until June 11 when summer hours kick in. Admission is $8 for adults, $7 for seniors (65+), free for children 2 and under and free for members. For more information, go to Visit Fort Wayne or the Science Central website.