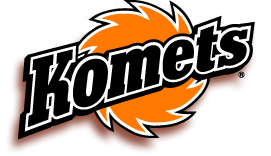 Ever since my brothers and I were little kids, my grandpa has been taking us to Fort Wayne Komets games. He's a long-time ticket holder and even as I trek through my early adulthood, I look forward to Komets season coming around and spending time with just my grandpa and the boys. I am a girly girl through and through, but I love watching a good hockey game - and give me a great hockey fight and I'm even happier! There's just something about contact sports, cheering and jeering crowds and men on skates that brings out a side of me not seen much during the non-hockey months of the year.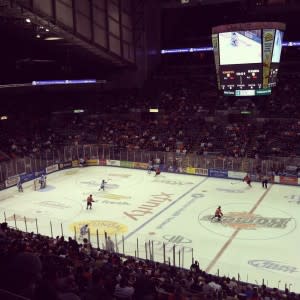 It is no secret that Fort Wayne is a great minor league sports city. From baseball, to basketball, to hockey, we have something for each season of the year and that appeals to different sports fans. We take our sports serious here in Fort Wayne, and almost no team that has called the Summit City home is taken as seriously as the Fort Wayne Komets. The Komets are Fort Wayne's longest running sports franchise, starting in 1952 and ringing in their 61st year of play with the 2013-2014 season. All of those seasons have been played at the Allen County War Memorial Coliseum. For the last 61 years the Fort Wayne Komets have been a staple in the Fort Wayne sports scene and community. Not only have the Komets won numerous championships (9 to be exact) throughout their run in a variety of leagues, they have also volunteered and immersed themselves in the Fort Wayne community, giving all the more reason for the team to welcomed and cheered on by their hometown crowd. Beyond just watching a hockey game, Komets games are great for getting together with your favorite people. Whether it's a night out with friends, date night, or something fun to take the family to, a Komets game is the place to be. I personally have enjoyed these hockey games in all of the aforementioned ways and have always had a great time! It's a fun night out no matter who you're with! Having grown up a Komets fan and attending more games than I can count, here are a few tips, tricks and fun things I've picked up on over the years:
Seats: The 600 level is where you will find the most affordable tickets to a game, but if you really want to follow along with what's going on (AKA you want to see the puck) I highly suggest sitting in the 200 level seats. You're closer to the action and just feel like you're a part of the game and crowd. Although, I will say, I don't think there's a bad seat in the house.
Treats: Another one of my favorite parts about going to a game is ice cream during the 2nd intermission. This has long been a tradition in my family and even at 24 years old, my grandpa still gives out ice cream money (as long as I bring some back for him of course). The BEST place to get ice cream at the Coliseum, in my opinion, is the Ice Cream Parlor in the arena lobby. They serve hand dipped Edy's ice cream, and there is nothing better than a nice dish of Butterfinger ice cream to hold you over until the end of the game.
Specials: The Komets are known for their holiday games. Every year they play on Thanksgiving night and New Years Eve. My grandpa, brothers and I always go to the Thanksgiving night game after Thanksgiving dinner with the rest of the family. It's a great tradition to end the day and I've heard of many family's that do the same thing! For New Year Eve, a Komets game is something fun for you and your date, friends, etc.... to do leading up to the new year!
Kiddos: If you have kids, there are plenty of opportunities to keep them occupied and involved. Intermissions are very kid friendly, with games that you can enter to be a part of, the "Dance Cam", appearances by Komets mascot Icy D. Eagle and other regular Komet characters, and giveaways via the always exciting t-shirt gun. Throughout the game you can also find Icy roaming around behind-the-scenes and in the crowd encouraging everyone to cheer the Komets on!
Parking: There is a ton of parking at the Coliseum, but Komets games are usually very well attended which can make coming and going a little chaotic. Plan on arriving at the game around a half hour before the puck drops to avoid the mad-dash right before the game starts. You'll run into less traffic at the entrances, find a better parking spot and have an easier time navigating the halls and finding your seat. While your first instinct may be to run to the parking lot the second the final horn blows, you'll be one of about 8,000 people with the same thinking. Hang back for a few minutes as the crowd clears out of the arena and then make your way down to the parking lot. You'll experience a lot less pain trying to get home, or to your next destination for the night that way.
The Komets open their season at home at the Allen County Memorial Coliseum this Saturday, October 19th, against the Toledo Walleye at 7:30pm. Tickets are still available, but the home opener tends to sell out or come close, so make sure you get your tickets now! You can get ticket at the Coliseum Ticket Office, by phone at 1-800-745-3000, or through Ticketmaster. For more information, and a full schedule of the Komets home games for the year, check out Visit Fort Wayne or the Fort Wayne Komets website.