(Fort Wayne, Indiana is home to a number of holiday festival events. This is part two of a three-part series to showcase some of the most loved festivals.) The 29th annual Festival of Trees opens in all its shimmery splendor on November 27 this year at the Embassy Theatre, in the heart of downtown Fort Wayne. Outside of being an event you can visit during the holiday season, the Festival of Trees is also a stop on the city's annual downtown lighting ceremony. Read the Fort Wayne Insider Blog for information on that event and other holiday festivities in Fort Wayne.

The Festival of Trees features displays of decorated Christmas trees that will truly leave you in awe. It's a warm way to start the holiday season and affordable too. Admission is only $3 for children 12 and under. Adults admission is $7. This event also supports ongoing restoration and operational efforts for the historic Embassy Theatre. Special events do take place during this festival. Details are below! The Festival of Trees runs through December 4.

November 27, 6 - 9 p.m. Night of Lights

November 28, 4 - 8 p.m. Featuring Grande Page Organ music

November 29-December 1, 12 - 8 p.m. Youth Entertainment on the Embassy stage

December 2, 9 a.m. - 1 p.m. Kingston Senior Day - Open to public

December 3, 9 a.m. - 1 p.m. Festival of Trees open for viewing

December 4, 9 a.m. - 1 p.m. Tots and Trees Day - Open to public, kid's activities courtesy of TAG Art, room for strollers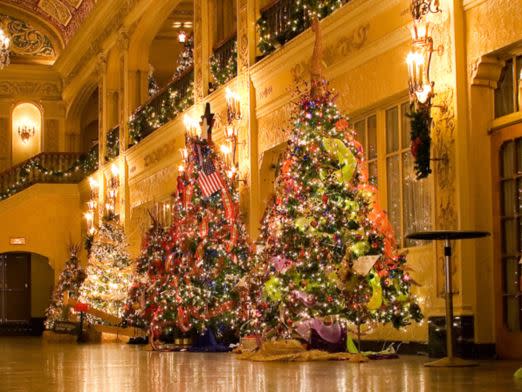 The Embassy Theatre is located at 125 W. Jefferson Blvd. For more information on this event and hours of operation please visit the Festival of Trees online. Insider Tip: The Embassy Theatre is conveniently located across the street from the Courtyard Marriott, should you stay there during your visit to Fort Wayne! If you do, there is a connecting walkway between each building, allowing you to visit the theatre and stay out of the cold.