If you find yourself on the southwest side of the city at dinnertime, swing by Outback Steakhouse for some delicious dining fun that will make you say, "Far out!"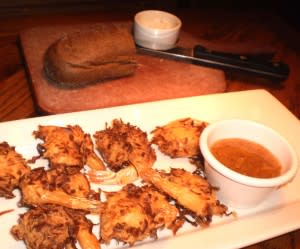 The Outback is probably the only place in Fort Wayne to show off  your knowledge of Aussie lingo, which you can learn here.  The restaurant is tastefully decorated with iconic images and slogans from Australia, and kids will appreciate the Australian animal cut-outs on the walls.  Each time I have dined here, I have had great experiences for a number of reasons.  The staff is always very friendly and efficient, and they are happy to make accommodations for patrons.  I appreciate the fact that the restaurant is not too loud or too stimulating for table conversation, even though there is background music and the TVs are on at the bar. The quality of the food and drinks is always fresh and delicious, and I enjoy the variety of choices.  For instance, I truly had a hard time choosing from the delicious selection of burgers and sandwiches on the menu. 
I finally settled on the Crispy Chicken Sandwich-a new item.  I highly recommend it for its savory blend of ranch and buffalo sauce.  You won't find a traditional burger on this menu! I'm not much of a seafood fan, but the Coconut Shrimp was delicious!  It comes with a Creole marmalade dip, which was refreshing but just a bit too sweet for my liking. I didn't have room in my belly for dessert, but I was eyeing the Chocolate Thunder From Down Under – a pecan brownie topped with vanilla ice cream, chocolate sauce and chocolate shavings.  That's enough goodness to make anyone say, "Crikey!"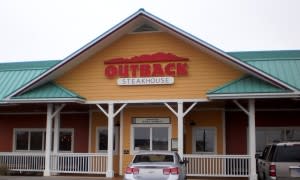 The Outback Steakhouse is located at 5455 Coventry Lane, behind the movie theater in the Village of Coventry.  You can call at 260-459-9206 or visit Outback on Facebook here or on the website here, which contains links to all menu items. Hours: Monday – Thursday, 4:00 p.m. – 10:00 p.m. Friday, 4:00 p.m. – 11:00 p.m. Saturday, 11:00 a.m. – 11:00 p.m. Sunday, 11:00 a.m. – 9:00 p.m.