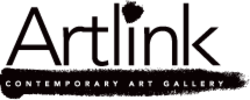 If you're an art lover and find yourself in the downtown Arts District, make Artlink a must-do during your stay in Fort Wayne!
This art museum is situated in the Auer Center for Arts and Culture building with Pembroke Bakery & Café and the Fort Wayne Ballet, across the street from the Fort Wayne Civic Theatre.  The spacious gallery features visual artwork from local, regional and national artists.  (I recognized some high school acquaintances' names in the gallery.)
I stopped into Artlink one gray, rainy day for a pick-me-up; I thought bright colors and new exhibits would cheer my spirits.  And they did!  I had so much fun looking at the Miniatures Collection, analyzing the huge, acrylic canvases of abstract art, and studying mixed media works – my favorite art form! One of the Artlink employees, an artist herself, took time to explain one artist's complex process for the photography exhibition.  She also showed me some locally-made handicrafts in the glass display case.  I bought a pair of mismatched earrings to match my personal, Bohemian fashion style! She gave me information on the current exhibition, featuring an annual postcard show, a local artists' sketchbook display, and a collection of artists' interpretations of a carnival theme. (Click here for more details about past, present and upcoming art exhibitions.)  
As I left, I heard her informing a group of college women about the diverse classes and parties that Artlink offers students and adults. I had an enjoyable time perusing Artlink for the first time, and the staff really does go out of their way to inform you about what's happening there.  So, if you need a bit of inspiration for you and your family and friends, I recommend checking out the art diversity that Artlink has to offer!
Visit Artlink in the Auer Center for Arts and Culture building at 300 E. Main St., on Facebook here, or on the website.
260-424-7195
Hours:
Sunday, 12pm – 5pm
Closed Monday
Tuesday – Friday, 10am – 5pm
Saturday, 12pm – 6pm