A new destination awaits in Fort Wayne, Indiana: Electric Works. 
Opening in the late 1800s, the former General Electric plant housed dozens of buildings and employed nearly 10,000 workers. Spanning nearly 40 acres in the southwest corner of downtown Fort Wayne, the campus has sat empty and dark for years. Now, this historic area is on the rise, finding new life as Electric Works — a reimagined mixed-use district.
Phase I of the project includes co-working areas, education and innovation spaces, and of course, dining and leisure.
Explore Union Street Market at Electric Works
Dining
At the heart of the campus is Union Street Market, the first food hall and public market in Northeast Indiana!
Union Street Market opened in November 2022, welcoming the general public for the first time to experience the Electric Works campus. Walk the East and West Halls to find a diverse mix of local merchants offering everything from delicious BBQ and Korean fare to kombucha and hard cider.
Meet the Merchants:
EAST HALL — Independent merchants offering fresh and specialty foods, meat, seafood, baked goods, and more:
Bee Great — Shop Indiana honey in every form, including cookies and cocktail mixers. You'll also find honey combined with different flavors!
Grabill Amish Pastries — Cake rolls, donuts, and more handmade pastries from the nearby Amish community of Grabill!
Grabill Amish Deli — Enjoy grab-n-go deli sandwiches, chips, drinks, and produce.
Herculean Meal Prep — Find healthy, delicious frozen entrees made with fresh, local ingredients.
Kateen's Floral Designs — Browse the premium floral arrangements, gift baskets, and candles.
The Kitchen and Co. — Handcrafted charcuterie, grazing boxes, salads, international cheese, and an olive and wine bar.
Plowshares at the Market — An agricultural co-op offering retail space for small local growers and producers to market their fresh produce and local and artisan foods. Also offering a salad bar!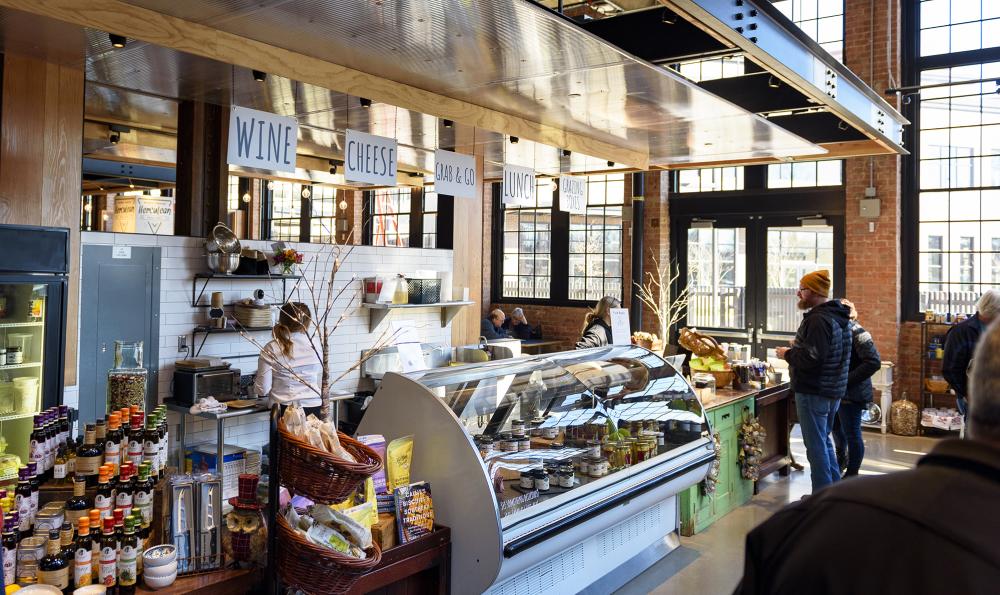 Pictured: The Kitchen & Co. in the East Hall
WEST HALL – Local businesses selling prepared foods, wines, desserts, and more:
Brooks BBQ & Chicken – Owner Cameron Brooks carries on the legacy of Brooks BBQ & Chicken, Fort Wayne's first Black-owned BBQ restaurant back in the '60s! Award-winning sauces, ribs, turkey tips, chicken, and soulful sides.
Pikoso Burritos — Delicious street tacos, creative burritos, and fresh guac and salsa!
The Charlie Horse — A full-service bar with innovative cocktails using local ingredients and spirits.
Kekionga Craft Company – Crisp hard ciders and meads from Kekionga's local cider mill.
Conjure Coffee — Start your day with freshly roasted brews and delicious baked goods.
Lunar Infusions — Kombucha flights, anyone? Try house-brewed kombucha at the bar to grab a growler fill to go.
Johnny Ox Pizzeria — Grab pizza by the slice or order the whole pie. Either way, you'll enjoy local ingredients and attention to detail!
Local Apple Cart — This crafty shop infuses ice cream with locally grown fruits. For those 21+, try the boozy, alcohol-infused ice cream options.
Seoul Garden — Savor authentic Korean cuisine, from Bulgogi and Bibimbob to Kimchi and dumplings.
O-Cha Thai — Enjoy delicious and tasty Thai dishes, including Street Rice, Pad Thai, and more.
Ghibli Middle Eastern Fare — From Ghibli Coffee (authentically cooked in hot sand) to baklava, falafel, tabbouleh, and soups, discover delicious Middle Eastern flavors!
Buyamba Sandwich Company — Satisfy your sandwich craving with cleverly-named creations, and enjoy a cup of soup on the side.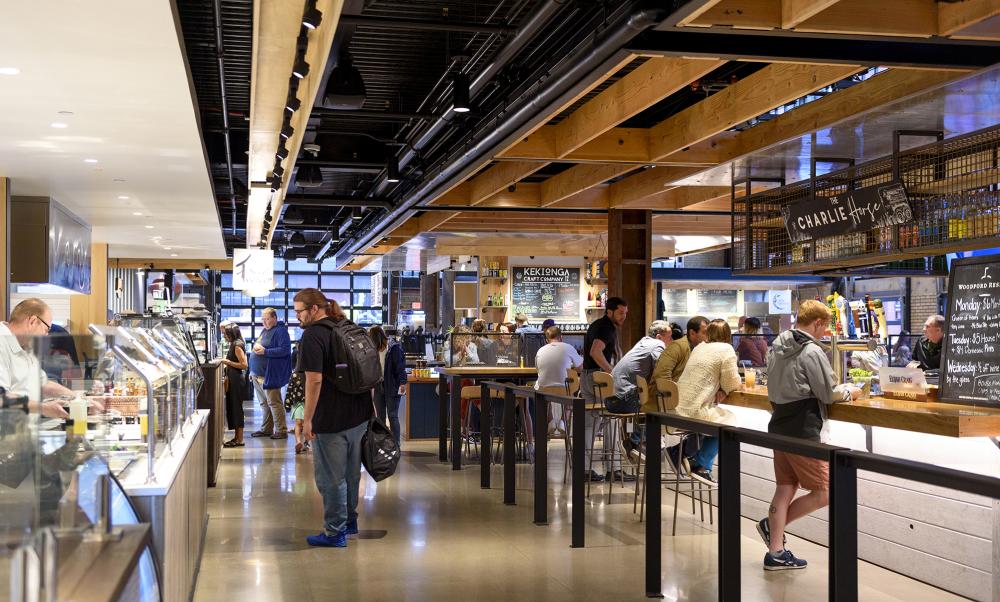 Pictured: West Hall at Union Street Market
In the warmer months, garage doors on the outer wall of the West Hall open, extending the space out into a beer garden!
Once you have your food, grab an open table and dig in. Find a table in the lower level of the West Hall, or head upstairs to the mezzanine level overlooking the West Hall. (Access the mezzanine via the staircases at the North and South ends of the West Hall, OR using the elevator next to Local Apple Cart.)
In between the East and West Halls, the 5,000 sq. ft. Arcade offers additional space for dining tables. Grab a seat and enjoy your food, as you take in the murals lining the walls. Each mural was painted by a local artist, and inspired by one of the merchants inside the hall!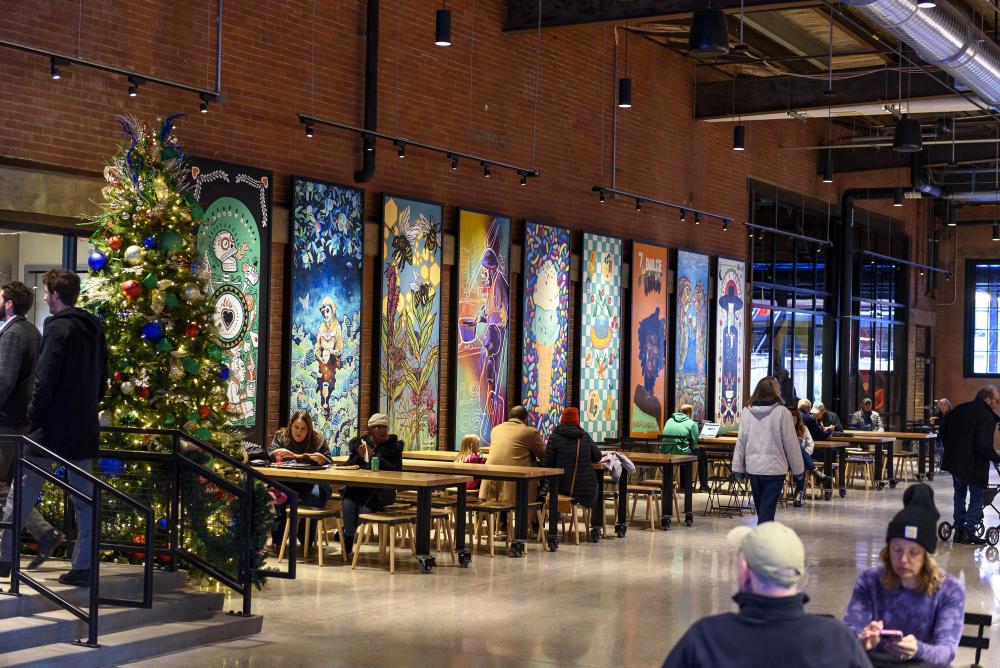 Pictured: "Arcade" space between the East and West Halls. Merchant-inspired art lines the walls
Be sure to check the calendar of events, as the Arcade will also play host to many artisan markets and special events throughout the year.
Transportation and Parking
Take your pick between several great (FREE) parking options!
Union Street Parking Garage – Take Broadway to Lavina St. (just north of the railroad bridge) to access this parking garage. Enjoy free parking for the first 2 hours, with an hourly fee after that. (EV charging stations available!)
Swinney Ave. Lot – Paved visitor lot on Swinney Ave. between Broadway and College.
Free street parking along Broadway
There are two additional parking lots — the Wall Street Lot (on Wall St., west of College St.) and the Public Lot on the east side of McCulloch Park (accessible by taking Broadway to Parkview Ave.)
Visitors will find handicapped parking spots available in the Union Street Parking Garage, Swinney Ave. Lot, and along Broadway. Additionally, Dynamo Alley — the street running along the south side of Union Street Market (between the market and building #19) — is usually open for cars to drop off individuals at the entrance of the market.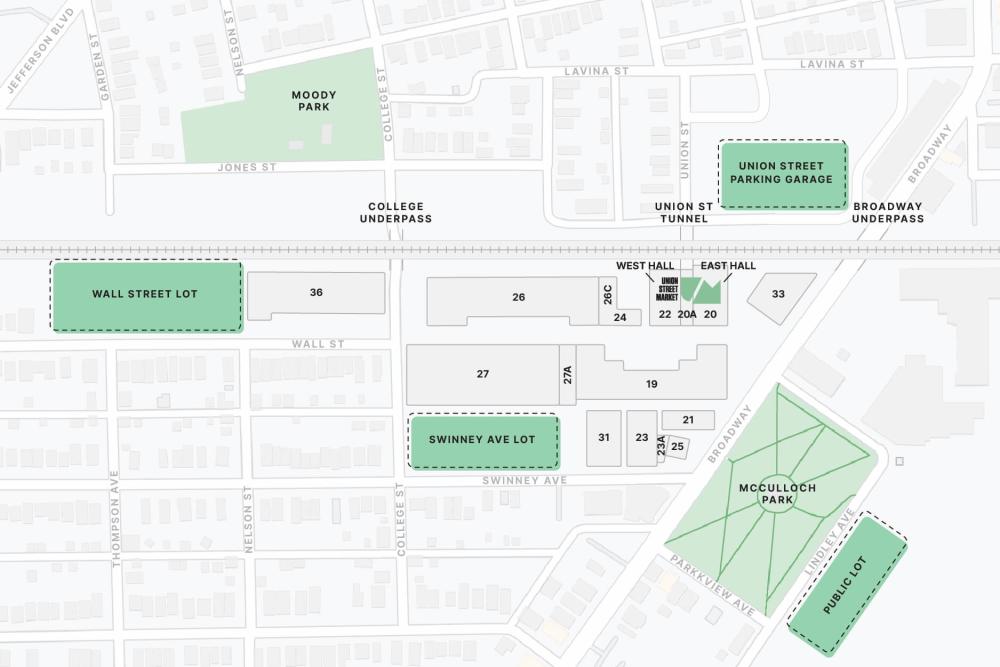 Feeling more active? Bike to Electric Works along Fort Wayne's extensive trail system! As you shop and dine, leave your bike locked in one of the racks adjacent to the East Hall.
Public Art
It's no secret that Fort Wayne loves public art. Electric Works and Union Street Market have channeled the creative talent that flows through our city, incorporating local art into the innovative spaces throughout the campus.
As mentioned, visitors can browse the merchant-inspired murals hanging in the Arcade between the East and West Halls — but it doesn't stop there. As you walk from the Union Street Parking Garage to the market, you'll journey through the Union Street Tunnel, where local muralist Theoplis Smith III (aka Phresh Laundry) uses paint and light to pay homage to the history of Electric Works.
Don't be surprised if you see old pieces of machinery around the grounds. These pieces have been preserved and placed intentionally throughout the campus to honor the people, the work, and the stories that once filled these buildings. Stop and read the plaques to learn a bit of history on your next visit!
Plan a Visit
As Phase I of Electric Works begins to open to the public, it truly feels like a full-circle experience — where Fort Wayne's history becomes a focal point of our city's next chapter!
Visit unionstreetmarket.org or fortwayneelectricworks.com to find all the details and plan your visit.
This post was originally published in 2022 and has been updated. Last Updated: August 2023