What could be cuter than kids in a pumpkin patch? Maybe pumpkins with kids and a few friendly gnomes, peeking through corn stalks and just waiting to get their picture taken!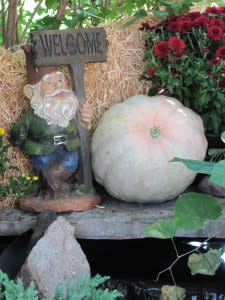 Check out the "Punkin Path," a pint-sized display of gourds, pumpkins and other fall flora at the Foellinger-Freimann Botanical Conservatory. Small gnomes will be tucked in amongst the displays, just the right size for small visitors to meet and greet. The display will open on Tuesday, October 14. An outdoor event, the Punkin Path is located within the gated gardens area of the Botanical Gardens – so there will be plenty of gentle hills and old trees to explore, in addition to the pumpkins, gourds and straw bales. Fort Wayne's sometimes frosty, sometimes toasty October weather is the perfect time to experience glowing golden leaves and to scuffle along brick sidewalks, taking in the sharp scent of autumn. As part of the Punkin Path display, the Botanical Conservatory will hold a "Pumpkin Zone" on one Saturday afternoon. This special event will offer families fall crafts, games and a Gnome Search. Young scientists will be invited to learn about the buoyancy of squashes (i.e. can a pumpkin float?) and visitors will be able to snack on pumpkin seeds. This one-day-only event will take place on Saturday, October 18 from 10 a.m. to 3 p.m. For people who want to take some of that garden goodness home with them, there is an outdoor garden shop hosted by the Botanical Conservatory. Live plants, like pots of herbs and perennials will be available. Small conifers are also for sale – these are just the thing for starting your own bonsai garden. And mums should be on hand, too! A great concept that the Conservatory is implementing this year is the sale of still-fresh and slightly-used pumpkins. After the Punkin Path display has concluded (October 31), the Botanical Garden's sales garden on Calhoun will sell off exhibit items. These would be just the right pieces to use for Thanksgiving displays and decorations- and a nice way to prolong the beauty of autumn for your home and friends!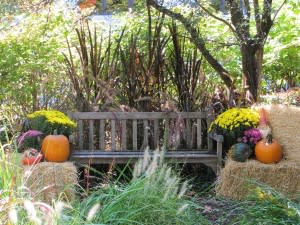 The Botanical Gardens Punkin Path is a wonderful way to celebrate the beauty and fun of fall. Why not step outside with the kids and meet a gnome in the wild?