If there's one show I look forward to every year it's Down the Line: Legends from Locals. I enjoy this event for two reasons. First, it features some of Fort Wayne's best musical acts in a one-of-a kind venue. Second, and perhaps most important is the fact that it's a benefit for the historical Embassy Theatre. So that means you can help ensure one of Fort Wayne's landmarks stays around for years to come.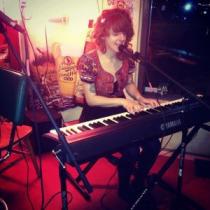 One notable thing about this event is no two shows are the same. Local acts cover well-known acts across a variety of genres. For example, last year we heard covers of The Talking Heads juxtaposed with the music of Journey. Each band put its own twist on the music of these legendary bands. It's also neat to see several generations enjoying the music together. They say music unites us, and this show is proof of that.
So what's on tap for this year?  Experience David Bowie as performed by the Hope Arthur Orchestra. Rock with Van Halen by the Little Green Men. Encounter Lou Reed and the music of the Velvet Underground from Heaven's Gateway Drugs. Relive the music from the Allman Brothers Band from Phil's Family Lizard and rock the house to AC/DC performed by the River Bottom Nitemare Band with special guest, the O-Tools Bagpipe Brigade. I've had the fortune to see most of these bands play before, and I can ensure you're in for a treat. And the venue is a treat in and of itself. There is not a bad seat in the house, you'll discover. Tickets for this all-ages show on Feb. 22 are $12 in advance and $15 the week of the show. A limited number of early entry tickets are also available for $20. Tickets are on sale now at the Embassy Theatre box office, all other Ticketmaster locations and Ticketmaster.com.