What are you doing the last Saturday of the month?  This month, come downtown and take part in activities, special museum exhibitions, concerts, and food as part of the Downtown Improvement District's Last Saturdays event series.  This month on June 29, Last Saturdays will happen the same day as BuskerFest, making this Last Saturday extra special.

Start the Saturday off right with a stop at the Young Leaders of Northeast Indiana's Barr Street Market from 9 a.m.—1 p.m. and the Fort Wayne Farmer's Market at the corner of Barr and Wayne Streets. Lots of downtown museums offer discounted admission during Last Saturdays.  Stop by The History Center to learn more about the history of Allen County or Science Central to discover what animals really think; both will have half price admission.  You can also visit African butterflies and other exotic plants at the Botanical conservatory.  At the Fort Wayne Museum of Art, June 29 is the first day of the new Dale Chihuly exhibition Chihuly: Secret Garden as well as other glass art.  The Chihuly exhibition requires a $7 fee in addition to the museum's entrance fee.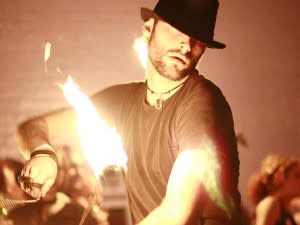 In the late afternoon, BuskerFest, a celebration of street art, kicks off at 4 p.m. on Wayne and Calhoun Streets.  There will be great performances from drummers, magicians, balloon artists, and more in the area.  For a full schedule of the main performers, click here. For music, stop by the Allen County Public Library Main Branch for Rock the Plaza. Local bands Phil's Family Lizard and Pink Droyd will be playing from 6 – 10 p.m.  When you get hungry, stop by downtown restaurants or grab a bite from a food truck. There will be performances by Joe Stabelli from 6 – 9 p.m. at Hall's Gas House and Francie Zucco Quartet from 9:30 p.m. – 12:30 a.m. at Club Soda.  No cover is needed for either performance.  Later at night, stop by Cinema Center to see Evil Intent at 11:59 p.m.  Tickets to the film are $5. Last Saturdays take place the last Saturday of every month downtown.  For a full listing of all June Last Saturday activities, click here.