Fortezza Coffee is not your typical coffeeshop, and that's a good thing. The attention to detail is unrivaled, at least locally. Located at  819 S. Calhoun St, across from popular lunch spot the Dash-In, this place provides a great back-drop for casual meet-ups with friends and business meetings alike. It has a hip vibe that you might find in a bigger city.
No generic Starbuck's feel here! A dining room and closed-off meeting area mean there's plenty of space to relax, work, or just take in the scenery around you. I've been to Fortezza several times now and have never felt cramped. Plus the noise level is tolerable if you want to carry on a conversation. Of course the main draw is the coffee. It's not an understatement to say the drinks are a work of art. Using a process called latte art, the barista combines espresso and steamed milk to create impressive designs that appeal to the palette. And customers can rest a little easier knowing their beans are ethically sourced through a process called direct trade. Call it coffee with a conscious! (For those non-coffee drinkers like myself, they offer other items like brewed tea. )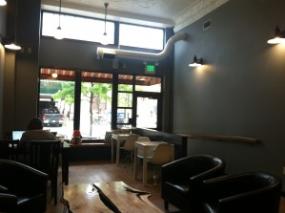 But they don't just stop at coffee. Hungry customers will appreciate their light brunch menu, which boasts open-faced sandwiches, quiches and more. Craving something sweet? You'll want to at least eye their pastries--all made in-house! Look for the menu as you come in, artfully written in chalk on the wall. If you want to check out this place (as you should), know that you'll have to find street parking. There is no dedicated lot available. Parking is 50 cents an hour, paid via meters until 5 p.m. on weekdays, and is free on the weekend. So be sure you have plenty of change on your person. Beyond delicious coffee and delectable eats, Fortezza offers meeting space for small or large crowds. The ample seating allows for small coffee meetings to take place, while they also have a meeting room you are able to rent out for a larger crowd. To reserve the meeting room, simply give Fortezza a call for the details.
Fortezza Coffee is open from 7 a.m. – 8 p.m. Monday through Friday, and 8 a.m. – 7 p.m. Saturday. Check them out on Facebook to keep up-to-date.