This is part three in a seven-part series detailing the opportunities the many Fort Wayne Trails have to offer.

New this year, trail maps and itineraries are available online for visitors to the Fort Wayne area. Use one of these guides to plan your next visit. Fort Wayne and Allen County are home to more than 65 miles of trails for biking, hiking and kayaking. In addition, these pathways connect visitors to the area's attractions, downtown, nearby parks and eateries.

• Coliseum Boulevard - Kreager Park:  Begin this trail journey by parking at Daryl B. Corbin Memorial Park, which is located at 724 N. Coliseum Blvd., near Lakeside Golf Course, on the city's north side. Follow the trail spur until you reach the Maumee Pathway. Then take the trail east to North River Road and continue on the trail past the North River Road Parking lot and toward Kreager Park - home to Taylor's Dream Boundless Playground. This playground is a child's every dream come true and a must stop for families. Here there are also restrooms, picnic areas and a drinking fountain. Walking trails, soccer fields and softball diamonds are also on site. This trail is prone to flooding so be sure to consider the impact of any recent rain before heading. Trail closure information is updated online here. Click the Trail Closures tab on the left pane.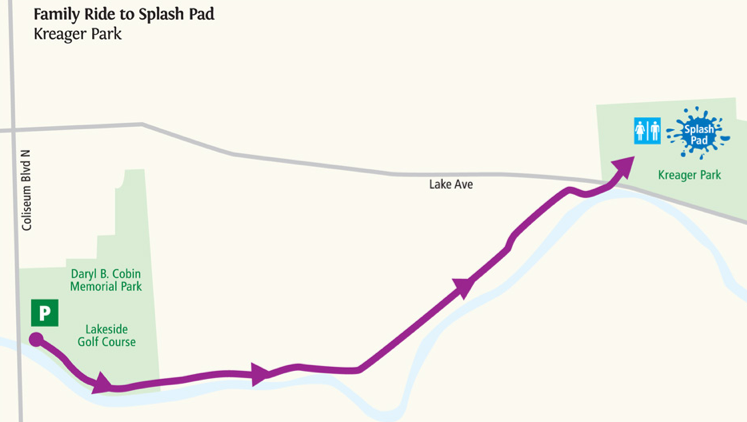 Because this is a longer course with a more scenic route, pair this trail with a packed lunch and enjoy a picnic when you arrive at Kreager Park. This trail is 7-miles round trip. Visit the Coliseum Boulevard - Kreager Park Fort Wayne Trail map online and to use it as a resource for your next journey. A full city map of all trails is also available online. Individual trail maps and itineraries are also available. See you on the trails!