With drinks, dining, and shopping conveniently located in the heart of Fort Wayne, Indiana, Union Street Market is the perfect spot for your next date night! 
Click here for Union Street Parking Information and a list of Market Vendors and Merchants.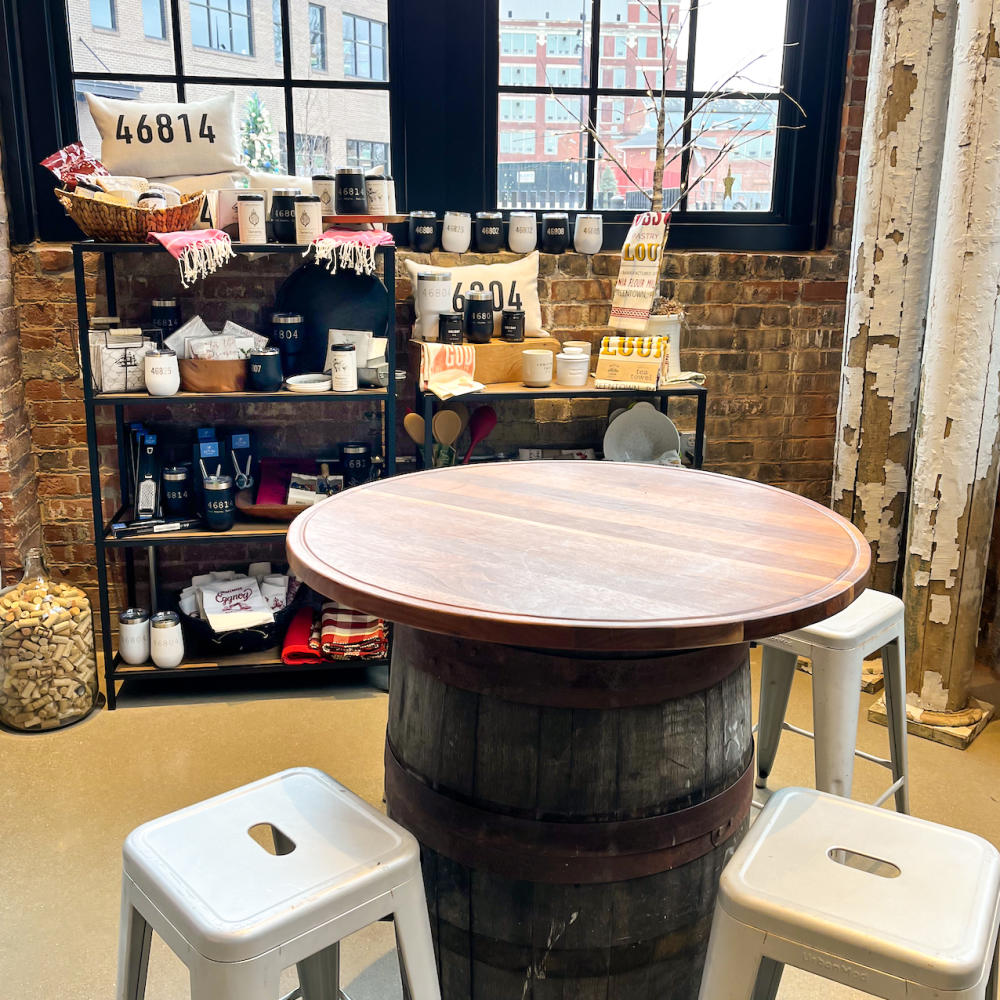 Pictured: Merchandise Table at Kitchen & Co.
Date Night at Union Street Market in Fort Wayne
Shopping
If you parked at the Union Street Garage and walked through the tunnel, you have entered the Arcade. This bustling space between the East and West Halls is home to ample seating and vibrant art inspired by market merchants, and will often be occupied by pop-up markets and local vendors selling handmade products and goods. 
On your left is the East Hall, similar to a traditional farmer's market with local vendors selling specialty products such as baked goods, local honey products, produce, wine, cheese, and even floral arrangements! 
The East Hall closes earlier than the West Hall, so be mindful of the time if you are hoping to take some fresh items home with you.
Across the Arcade, the West Hall is full of merchants ready to serve you fresh foods and refreshing beverages. With so many options, there is no need to compromise on cuisine; you can try a bit of everything, all under one roof!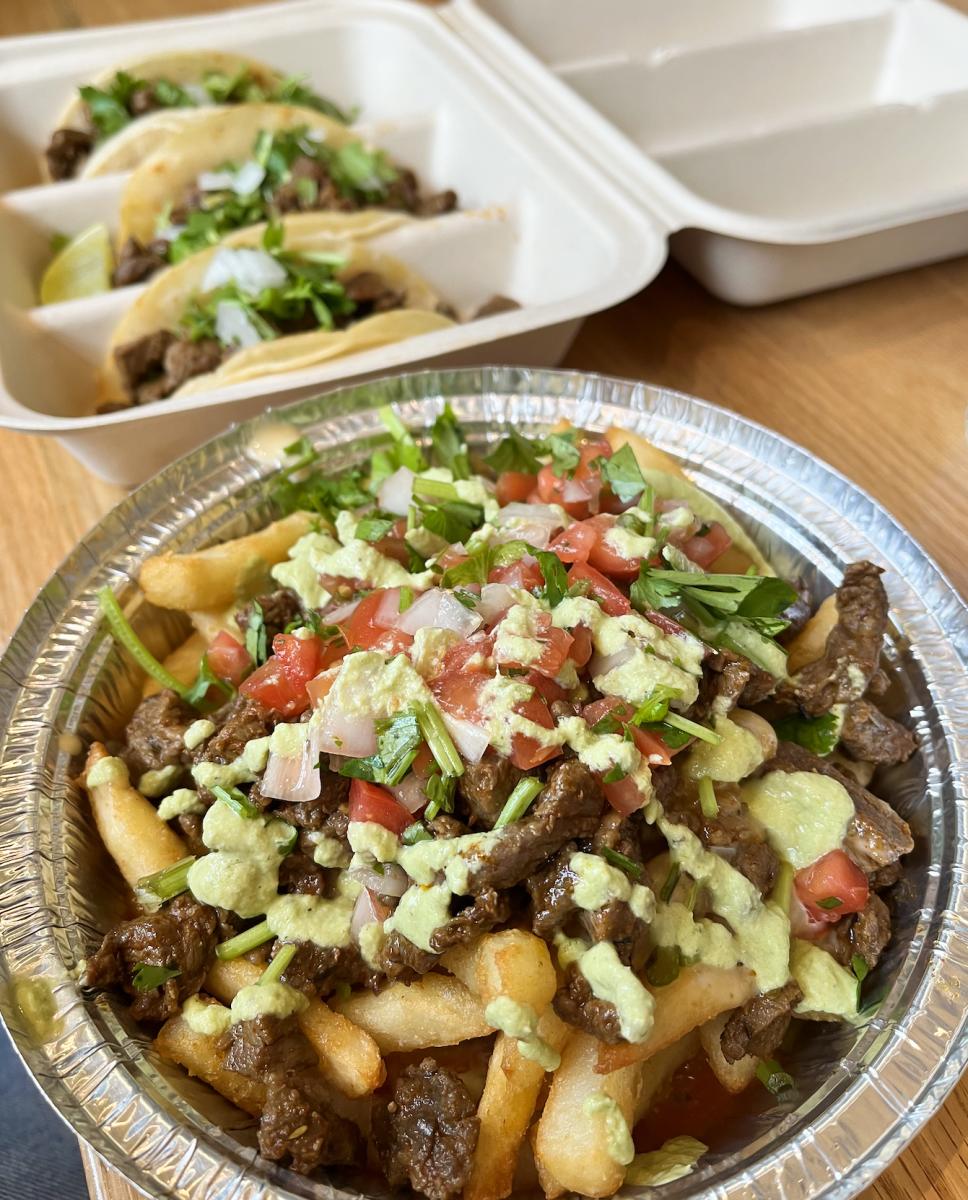 Pictured: Loaded Fries and Street Tacos from Pikoso Burrito Co.
Appetizers
You've shopped up an appetite and now it's time for appetizers.
If you're still browsing the East Hall, you may want to try the ready-made grazing boxes from Kitchen and Co. Their spread of meat, cheese, fruits, and vegetables pairs well with a cider or mead from Kekionga Craft Company located in the West Hall. 
The Loaded Fries from Pikoso Burrito Co. are piled high with your choice of meat, queso, fresh pico, and cilantro, and are the perfect size for sharing! 
Looking for something a bit lighter? Try a salad, cup of soup, or antipasto made with in-season and locally grown produce from Johnny Ox Pizzeria. Pro Tip: If you get there before 6pm, you can also get pizza by the slice!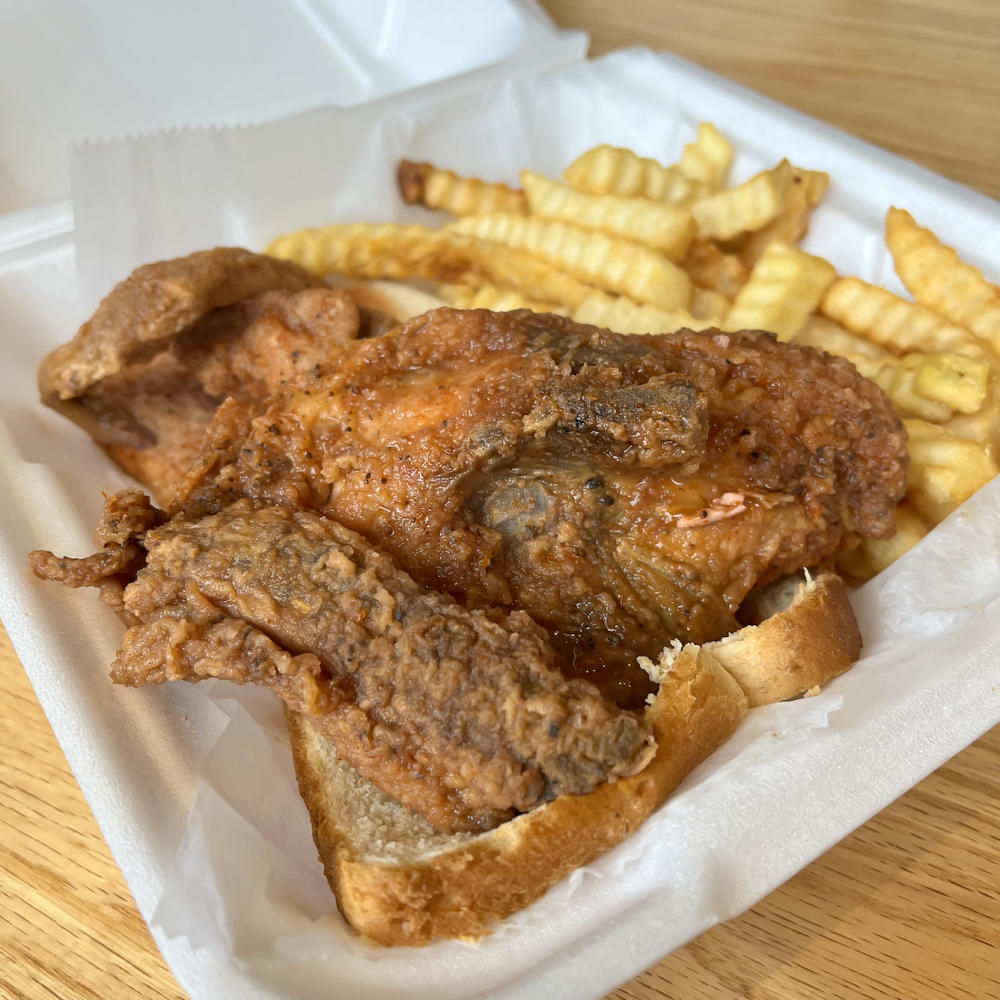 Pictured: Chicken Wings and Fries from Brooks BBQ
Entrees
If you love pizza and didn't get to try it by the slice, now is the time to order an extra large, cheesy pizza of your own. Johnny Ox uses a slow-rising, fermented dough that creates luxurious crust bubbles. They even offer five vegan and vegetarian options that don't sacrifice taste. You'll probably have leftovers to take home with you, too! 
BBQ is always a good idea, unless this is a first date. Locals rave about Brooks BBQ and Chicken, owned by American Idol Season 2 contestant and BBQ aficionado, Cam Brooks. Try the rib tips or the chicken wings slathered in Ma's special vinegar sauce with a side of extra napkins.
If you skipped the Pikoso Burrito Co. Loaded Fries, you need to try their street tacos, bowls, or burritos, with a side of fresh guacamole or salsa. 
Stop by Seoul Garden to try their famously delicious Beef Bulgogi. They're also known for great vegan and vegetarian dishes.
Or enjoy some Pad Thai or check out the weekly specials offered at O-Cha Thai (which appropriately translates to "tasty" Thai!)
Take your feast to a table on the first floor, or venture upstairs for a more quiet and intimate experience. Upstairs seating includes high-top tables, bench seating, and a few spots for lounging. You also enjoy a great view of the Market and the original General Electric pieces left behind.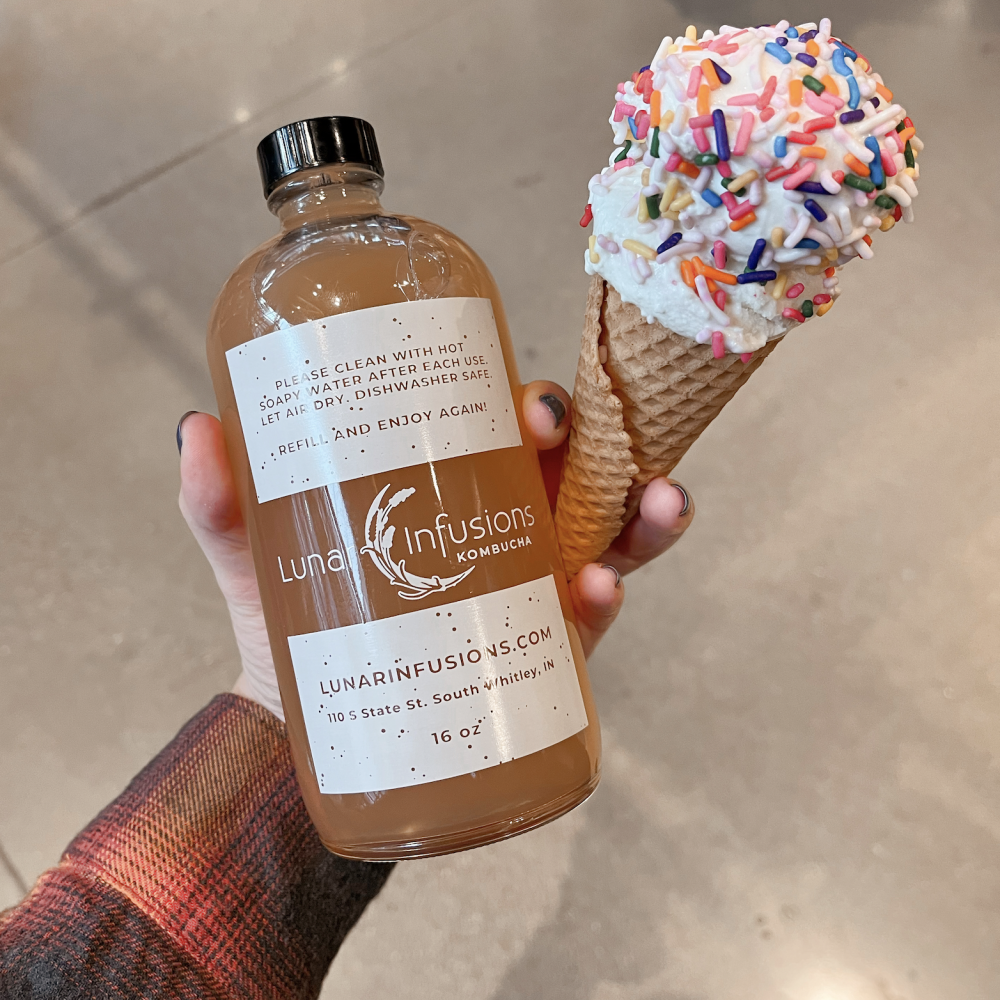 Pictured: Kombucha from Lunar Infusions and an Ice Cream Cone from Local Apple Cart
Drinks & Dessert
End your evening with a sweet treat or creative cocktail! 
Grab a baklava dessert plate paired with Gibli Coffee (authentically cooked in hot sand) from Gibli Middle Eastern Fare!
Have your dessert and your drink, too, at the Local Apple Cart! This colorful shop has both alcoholic and non-alcoholic ice cream in a variety of unique flavors. (Yes, boozy ice cream! For those 21+, of course.) Dip your cone in the rotating sprinkle machine for the perfect dusting of color, grab a milkshake, or take home a pint to enjoy later! 
Wanting to try something new? Lunar Infusions Kombucha has a variety of fermented beverages, as well as wellness shots and other specialty drinks. Order a flight to find your new favorite flavor, and take some home in their reusable glass bottles! 
Need some caffeine to kickstart your evening? Conjure Coffee serves locally roasted and expertly brewed coffee drinks, and a selection of fresh pastries and ice cream.
Kekionga Craft Company has a variety of hard ciders, wine, and seasonal alcohol slushes.
Get cozy at the bar of The Charlie Horse to watch the game or enjoy a private conversation. While you're there, try one of their specialty cocktails made with local spirits or one of the many Indiana-brewed beers on tap.
Union Street Market is just one small piece of the Electric Works puzzle. Stay tuned as more businesses, restaurants, and innovative ideas move onto the historic campus!
*This post was originally published in January 2023 and has been updated. Last updated: August 2023