Working at the Children's Museum of Indianapolis holds many memories and unforgettable experiences for me. One of the most exciting was when the massive display of blown glass by artist Dale Chihuly was assembled in 2005. It is now a colorful, central piece of the museum itself, beginning on the lowest level and reaching skyward through the center of the building--and as you walk up the ramp to higher levels, you are given an opportunity to view Chihuly's amazing work from all angles.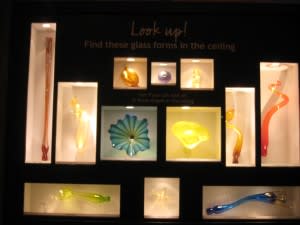 Opportunities like this are usually reserved for larger metropolitan cities like Indianapolis and Chicago--but from June 29 through September 29, the city Fort Wayne will have Chilhuly's contemporary art glass on display at the Fort Wayne Museum of Art in the exhibits Chihuly: Secret Garden and The Chihuly Effect: Pushing the Boundaries of Studio Glass. A combined effort between the FWMoA and the Franklin Park Conservatory in Columbus, Ohio, the Chihuly exhibit will feature glass pieces from several of the artist's collections: Macchia Blue Heron, Red Belugo, and his Neodymium Red Series. Museum visitors will have the chance to view some of the most spectacular blown glass sculptures ever created. This major presentation is a landmark effort to bring unique, beautiful art to the city of Fort Wayne.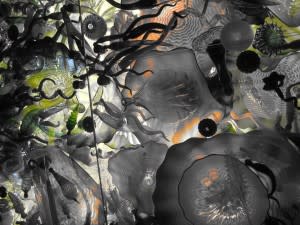 The Chihuly exhibit will feature the artisinal roots of blown glass, breaking down the barriers between high art and craft--and will shown the connection among arts and crafts to daily life, natural environments, and pop culture. Intended to engage all the senses, the exhibit will include media such as rocks, plant life, inventive florals, theatrical elements, and adventurous color schemes. Be sure to visit the FWMoA this summer, and don't miss this incredible display of blown glass. Tickets required; the cost is $7 in addition to regular museum admission. For more information you can call the Fort wayne Museum of Art at  260.422.6467, visit the museum's website, or check out Visit Fort Wayne!