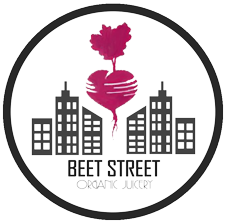 The juicing craze has swept the nation, and Fort Wayne in no exception. Enter Beet Street Juicery, Fort Wayne's newest haunt for health nuts. Making it possible for people to eat healthy and organic food in Fort Wayne is the personal mission of Beet Street founder and owner, Sherina Collier. While her shop has only been open a few weeks, it can be said that the concept was born more than four years ago. It was then her father was diagnosed with cancer. During this time she was committed to making sure he was properly nourished so he could fight the disease. Unfortunately he lost his battle, but that did not deter Sherina from pursuing her passion. Instead, she was inspired to share knowledge and resources.
Beet Street Juicery is the result of her labors of love and a great deal of support from the community. In fact, she was able to raise $6250 via Kickstarter and $280 at juice tastings. When you walk inside Beet Street, you can feel the positive energy. The brightly colored walls and art makes for a cheery atmosphere. Sherina is enthusiastic and knowledgeable.  I perused the menu and decided on a Chip N Mint smoothie, which consisted of banana, spirulina, cacao nibs + powder, chia, mint, vanilla, agave and choice of milk.  It was delish! It almost tasted like a milkshake, but without the guilt. My friend ordered a juice. You should expect to pay about $6 or $7, which is pretty good when you think about all the nutrition you're getting.
Insider's Tip: You can purchase a reusable glass and get 50 cents off an 8oz purchase or $1.00 off a 16 oz purchase. 
Sherina is knowledge about nutrition and how food can treat conditions. She considers herself a wellness advisor. I can tell you, the girl knows her stuff. I asked a question about the difference between the elixirs and shots, and she gave me a detailed response. You can tell she's committed to helping people live their best lives. She has plans to make Beet Street a place dedicated to all aspects of wellness. To learn more about Beet Street Juicery, visit their website.