The weather outside may be frightful, but there's no excuse for being bored in the Summit City. There are plenty of winter time classes to pique your interest, whether it be crafts or cooking, Here are a few to check out:
Soapmaking: Ah...soap. Who doesn't love the clean smell of specialty soap? Learn how to make some you and your friends can enjoy at the Lather & Lotions studio, not far from downtown Fort Wayne. They emphasize the foundations so you can build upon the skills you've learned. The class topics change, but there is one in February focused on lavender products.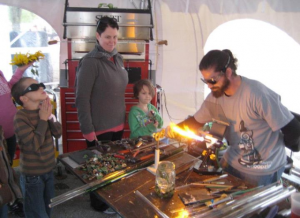 Glassblowing: Get your creative juices flowing with artist Eran Park of the Glass Park.  His two-hour introduction to glass blowing class is ideal for two people and costs $200. This is a great way to spend quality time learning something new and exciting with a loved one or friend. This class will focus on safety and the basics of flame-work style glass forming. Students will get a chance to see some glass demonstrations, learn about the tools involved, and if they feel like they are able get behind the torch.
Get cookin': Country Kitchen SweetArt has been teaching cake decorating, candy making, cookie decorating, and other confectionery classes since the early 1970s. Check out their 2014 schedule to see what's on tap. Then impress your friends and family with your caking decorating skills!
Get crafty: If you are interested in beginning knitting, Knitting off Broadway is the place! They offer private lessons during the week as well as Saturday mornings before the shop opens.  The cost is $30 for one hour of instruction. In one hour of beginning knitting, one can learn how to cast on, knit and purl! So, what will it be? Any of these classes would be perfect for a girls weekend away. Winter is a perfect time to discover (re-discover) a hobby.