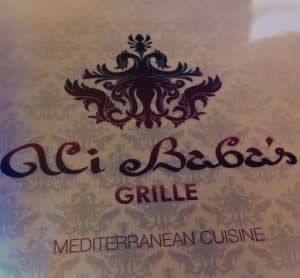 If it is a taste of traditional Middle Eastern cuisine is what you are looking for, it is exactly what you will find at Ali Baba's Grille. Ali Baba's menu is a buffet of classic Middle Eastern treats - grape leaves, hummus, falafel, gyros, kabobs, baba ghanouge, and homemade pita bread. Vegetarian options are plentiful on the menu, as are homemade desserts. I stopped into Ali Baba's for lunch. I was looking for something different and found many attractive options. As Middle Eastern melodies played softly in the background I sat conflicted between meat and falafel, then hummus and baba ghanouge, it was tough. However, the kind and very attentive wait staff happily assisted me by suggesting the veggie sampler. Excellent call. I enjoyed healthy portions of hummus, baba ghanouge, four grape leaves, and four falafel croquettes with tahini sauce and fresh pita bread. My plate was a foursome of tastiness. I started with the grape leaves. The silky grape leaves made a lovely canvas for the flavorful oil, rice, and veggies within. The hummus was smooth and cool on the front end but left you with spiciness and heat, which was complimented by the fresh pita bread. The baba ghanouge was smokey and spicy with a hint of texture from the pureed eggplant. The hummus and the baba ghanouge also made great dipping sauces for the falafel croquettes. The falafel was my favorite. Each little croquette of goodness was evenly crispy on the outside and light, green, and fluffy on the inside. Very good, with or without the tahini, hummus, or baba ghanouge.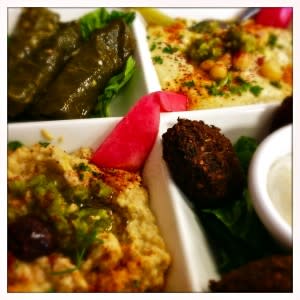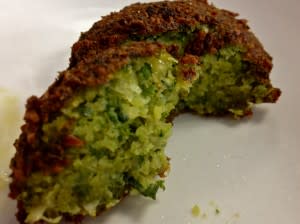 Despite the generous portion of lunch and the carry out containers I asked for, I still ordered dessert. Typically I only eat sweets on days that start with "S", but this day I made an exception. The server offered me the option to try the homemade ("by the lady in the back" as she told me) nammourah. Nammourah is a Middle Eastern pastry made from semolina, coconut milk, and light syrup, amongst other ingredients. It was lovely, both light and rich at the same time. It was worth the splurge.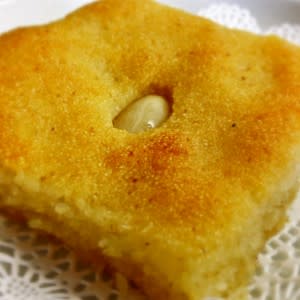 Ali Baba's Grille is taste of a far away place right here at home. Definitely worth a visit. Ali Baba's is located just north of Dupont Road at 10812 Coldwater Road, Suite 1000 in the Valley Plaza (going north on Coldwater make a right onto Mill Lake Road and follow the signs). Ali Baba's is open Monday - Thursday, 11:00 a.m. - 9:00 p.m., Friday and Saturday, 11:00 a.m. - 11:00 p.m., and Sunday 11:00 a.m. - 8:00 p.m.