When you're hosting a big, offsite meeting, it's easy to get caught-up in the details. The venue, food, speakers, and activities do deserve your attention…but don't forget one very important aspect of your event: MARKETING!
You'll need to do some PR (public relations) to generate interest among potential attendees. Whether your meeting is exclusive to employees of one company or open to the public, an early and deliberate PR plan is essential. I've put together a list of five industry tricks to help you attract a sold-out crowd to your next event.
1. Brand the event.
I recommend utilizing similar colors and font from your company's logo to create a short-term-use logo unique to the event. Branded letterhead is also helpful before, during, and after the meeting.
Do this step early in your planning and before you begin advertising the event.
The logo here is courtesy of the Fort Wayne Children's Zoo and was created to brand a one-day development event.
2. Give your event some exclusive real estate in cyberspace.
A dedicated website or a web page within your company's site will serve as a hub for communications. National real estate firm Coldwell Banker does a great job promoting their yearly conference online.
Click here to see how they do it.
If web design is not in your budget this time around, a Facebook Event Page is a decent alternative.
Click here for an example of Facebook Event marketing.
Visit Fort Wayne is also glad to help produce a custom landing page for you, featuring community and meeting information for your attendees!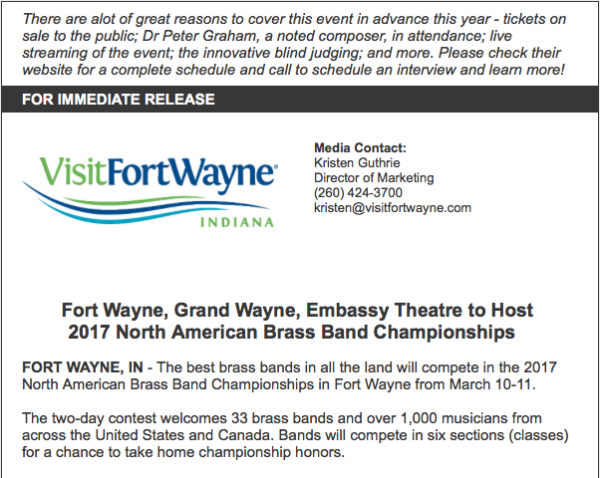 3. Encourage media interest in related markets.
Related markets could include the city/region where your event is located, and may also include the general industry. For example, if FDIC International held a conference in Fort Wayne, Indiana, a PR professional might issue two media releases: One that generates interest in the Fort Wayne area and one that generates interest in publications unique to the Fire Fighting industry.
If your company doesn't employ a PR writer, or if you're unsure of how to distribute a media release in your event's geographic market, consider outsourcing this step. You could hire an advertising agency or a freelance writer. 
Visit Fort Wayne's PR department is also glad to write and send a release to local media, to ensure coverage of your event (especially helpful if your event is open to the public!)
4. Circulate an agenda 1-2 days before the event.
Send the agenda via email to all attendees, speakers, sponsors, vendors, and to your contact at the venue. Include an enthusiastic message to all recipients and encourage them to reply with any questions ahead of the event.
5. Follow-up with a thank-you email and photos to all who attended.
Include a "save the date" for your company's next event. Send a handwritten thank-you to your speakers, presenters, sponsors and vendors.
A good PR plan can increase attendance and enhance the overall appeal of your next company meeting or event. Utilize the five PR tricks in this blog to bring professionalism (and more professionals) to your next event!
If you need help getting started on the planning of any aspect of your offsite meeting, call the team at Visit Fort Wayne. They're happy to help!