As Fall rolls in, virtually everything transforms. From all the kiddos headed back to school to the reemergence of "Pumpkin Spice" flavored everything, Autumn makes it's presence known quite boldly. While many of us relish this season that is a precursor to the reality of a Midwest Winter, the good people over at Fort Wayne Children's Zoo are likely to be working harder than ever. As our famous and beloved zoo here closes up shop very soon, October 12th to be exact, very little changes for the talented and dedicated Zoo Keepers that care for our furry friends. Fort Wayne Children's zoo is unique in more ways than one. They are one of the few self-sustained zoos nationwide, which means they raise all the funds to keep their doors open to us. This means no tax funding or municipality budget. The fact that it continues to thrive speaks to just how well-loved our zoo is. Another thing that sets our local zoo apart is its seasonal operation. Most zoos are open year-round but as a cost saving measure, The Fort Wayne Children's Zoo closes from mid October until late April. It makes great sense as I cannot imagine a huge crowd showing up to visit Bill the Lion in the middle of a Polar Vortex. Nor would Bill be all too pleased to have to peek his head out under such conditions. Speaking of Bill and company, what does all of this mean for them? When the zoo shuts down this October, what happens next? My husband said he couldn't imagine Jelani the Giraffe being sped down a freeway to transport him to a warmer climate. That would be quite a sight to behold. I can just imagine the hashtags Fort Waynians would use on Instagram as they spot Jelani on I-69. I had the pleasure of having an awesome and informative conversation with Cheryl Piropato to get accurate answers. She is the Education & Communications Director of the zoo. It was really enjoyable speaking to her because you could hear such joy in her voice as she answered all my questions about the animals. My first question was,"Where do all the animals get shipped off to once the zoo doors close?" Her answer was complex, so read carefully. "Everybody stays." What? Well, that sounded simple enough. There is however, one exception to that rule. The ponies. They are owned by a local family in Fort Wayne. The Hooley Family has been operating the pony ride that has brought such glee to our kids for many years. Once the zoo closes, the ponies go home to the Hooleys. While all the other animals stay on the property, their day-to-day lives vary. The animals spend as much or as little time outdoors as they can tolerate while the temp drops. The lynx is native to Canada so the cold doesn't pose a problem. Other animals need enclosures built right next to their exhibits. That's where Bill retreats any time the weather drops below 20 degrees. As for Jelani, he has a barn tall enough to accommodate his incredible height. He has to head indoors as soon as temps drop below 50 degrees. At the rate the September weather is going, he may have some days where he has to go inside before the zoo closes for the season, and I can relate.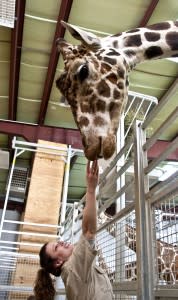 As a person burdened by a short attention span, I was curious as to how the animals beat the boredom having to spend more time indoors. Cheryl informed me that those hard-working Zoo Keepers I mentioned earlier, provide all sorts of enrichment for them. The time spent indoors allow the Zoo Keepers to have much more quality time with the animals. They focus on training them on everything from moving to different spaces, having their hooves trimmed, and taking their medicine. To keep those brains sharp, there are cool tools the Zoo Keepers use like puzzle feeders that make the animals have to think harder to get their food. The various enrichment activities and training sessions alleviate the boredom. I was interested to know if the animals ever show signs that they miss the visitors. While the zoo is open, 4-5,000 people are on the property on a daily basis. It has to be a pretty drastic change when this activity comes to a screeching halt. While most of the animals may not mind a bit, those who are more social seem to take notice. The sea lions swim over and show signs of enthusiasm when the occasional person walks by. The orangutans enjoy knowing what personal belongings people are toting around. Cheryl said that she's observed an orangutan taking great interest in someone removing items from their bag, one by one. I wonder if it's weird that I would enjoy that too. I mean, you can learn a lot about a person by what's in their bag so that's a wise orangutan.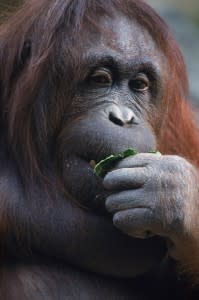 If you had pictured tumbleweed rolling by after October 12th, you may want to guess again. The Admin Office is all abuzz as well. This time is spent planning Zoo programs and events for the upcoming year. The administrators make the magic happen while the Zoo Keepers diligently work at keeping Fort Wayne's animals healthy, active, and happy. If you are anything like my family, you get so excited when zoo season is approaching. You've still got less than a month to enjoy a few more zoo trips before Jelani retreats to the barn. The Fort Wayne Children's Zoo is one more reason to visit Fort Wayne. Whatever you do, don't fret about the animals having to endure Fall and Winter this year. While you're sipping those pumpkin lattes, the wallabies are going to have a fine time hopping through the beautiful white snow.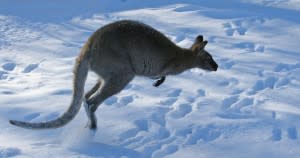 Before I go, I HAVE to share a quote. I will always leave you with one I enjoy whether it's relevant or not because quotes are just great! "When you are a giraffe and you receive criticism from turtles, they are reporting the view from the level they are on."- T.D. Jakes