Everyone loves babies, and you'll be able to see several little ones of the animal variety this season! There is tons of new life in many of the zoo exhibits, and we are excited for all of our visitors to see the new baby animals.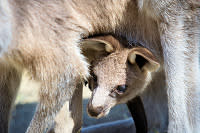 The kangaroo yard is home to at least three joeys this year.  "Two of the joeys are now completely out of the pouch," says zoo keeper Kierra Klein.  "The other joey is just peeking its head out of the pouch." These three joeys were born last year, but they are just now ready to make their Fort Wayne Children's Zoo debut! Eastern grey kangaroos are marsupials - their young are born in a highly undeveloped state and remain in the pouch for several months.  Keepers look for telltale wiggling of a growing joey in a female's pouch to know that a baby is on board.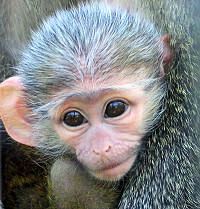 Over in the African Journey, there is also new life to be celebrated! Two baby monkeys were recently born in the area.  Orion, a swamp monkey, was born on November 1.  Orion joins his three siblings Anderson, Luella, and Izzy in the exhibit, and the four youngsters should provide plenty of activity this season. Kaasidy the colobus monkey was born in September. Due to construction in the African Village, you won't be able to see her for a few weeks while the colobus monkey exhibit is rebuilt in a new location in the African Village. Watch for more zoo babies throughout the season as our zoo family continues to grow! Learn more at www.kidszoo.org!