Adventure-loving fans should find a lot to love about Huntington's little-known sensation, Zip Timber Lake (www.ziptimberlake.com/).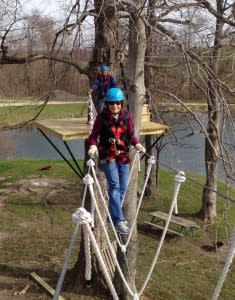 In case you haven't guessed from the name, all the energy centers on a super long (3-hour) full-service guided tour that includes 1,000 feet of lake zip-lining, 8 canopy zip lines, a dual side-by-side zip, a climbing tunnel, navigating a 70-foot platform and wobbly, zigzag bridges.  This challenging adventure is not for the faint of heart, nor for those who are pregnant or have medical conditions whose doctors advise against it.
This is a great place for family fun.  However, minimum weight to ride the zip line is 50 lbs. (age 8), and maximum weight is 275 lbs.  A waiver must be signed. Zip line rates for adults are $60 Mon-Thurs and $65 Fri-Sun and for youths 14 and under, $45 Mon-Thurs and $50 Fri-Sun.  Group discounts are available. Not up for adventure?  Camp Timber Lake offers 62-acres of "wooded and open land, with 15 acres of lakes" – is also open for camping (www.camptimberlakein.com/), with electric sites, full-service RV sites and primitive tent sites.  Rentals include rustic cabins and RV rentals.  Go swimming, pay-fishing, boating or hiking.  Boat rentals are available but only trolling motors are allowed. The campus (1740 E 675 N Huntington IN 46750) is open year round; for more information, call 260.672.3251 or email info@camptimberlakein.com.