It's one of those warm, sunny, summery days. Garage sales are springing up all over the place,  dandelions are nodding and folks are just enjoying the weather. What would make the day perfect? How about some ice cream? If you're in Fort Wayne for a little while and you'd like something unique for dessert, look for the blue and white stripes of our Zesto ice cream shops. An original Summit City business, Zesto has several locations around town, and their product is really creamy and good.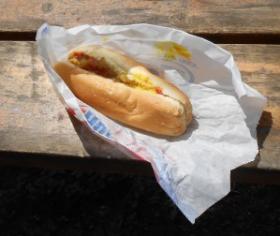 Zesto started in Fort Wayne over 50 years ago, and has been run by the same family for 35 years. Zesto shops are small – you walk up to the ordering counter, make your selection, hand over a little cash and walk away with a handful of cold creaminess. Picnic tables and benches are outside so you can enjoy your treat in the sunshine.
People also like to perch on the grassy slopes behind some Zesto shops, where there is plenty of seating room for a crowd and they can enjoy the evening. What's really neat about the Zesto's around here is that they are so easy to reach. One is right across from a Little League diamond. Another is tucked beside a hotel, a shopping mall and a few restaurants. If you want the ice cream but not too many calories, pacify your conscience by strolling over to the order window, instead of driving! Drive-through is an option – Zesto has a signboard with the different choices on it. You read the sign and pull forward to the speaker that's mounted on the side of the building. Then you pull forward again to receive your ice cream.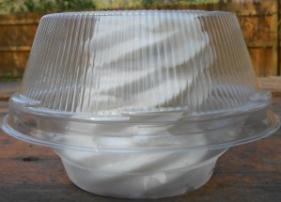 As a typical ice cream shop, Zesto offers cones, sundaes, banana splits, shakes, malts, floats and slushes. Check out their online menu to find some of the more unique offerings – like Black Raspberry or orange.
Ice cream servings come in small, medium, large and baby sizes – so if you want a little something but not too much, try out a baby sundae. Zesto also offers some lunch time items – hot dogs, BBQ beef sandwiches, and chili dogs. You can get bottled water, too. And if you want to take some Zesto home with you for the freezer, try out their pints and quarts of frozen yogurt and ice cream.
If you want a taste of good old American ice cream with that nifty, small-shop feeling, try out Zesto! For a full list of Zesto locations, so you too can try the creamy goodness, check out their website.