This post is part of a series highlighting the Your Story. Made Here. videos recently produced by the Northeast Indiana Regional Partnership. These videos share the stories of Northeast Indiana, and our many strengths. Click here to view the rest of the series.
While considering a move to Fort Wayne I heard someone compare the music scene to that of Austin, TX.   I was skeptical, but upon relocating to Fort Wayne I quickly figured out what they were talking about.  I'm not a fan of comparing our great city with another great city (after all we each have our own attributes) but like Austin, the local music scene is amazing. What do people love about the music scene in Fort Wayne?  Everything. 
The small venues, the variety of performances, how easy everything is to get to, and how affordable shows are to attend.  You can find shows in a variety of venues from high-end restaurants to local pubs, from outdoor theatres to art galleries and museums, from local festivals to the Embassy Theatre.
Fort Wayne's Michelle Gladieux is a big fan of Fort Wayne's music scene.  "One of my favorite things about living in NE Indiana is the diversity and dynamism of our music scene.  Dozens of restaurants and bars feature cover and original musicians performing different genres on almost every night of the week," she says. Gladieux is the President of Gladieux Consulting, a nationally recognized training and consulting firm. "When I'm on business travel, I make it a priority to experience live music in my free time. Our musicians' talents stack up to all others I've seen around the U.S."
An added perk according to Gladieux is the number of performers who teach and share their talents in the community.  "I've enjoyed bass and drums lessons in Fort Wayne as an adult because not only are our musicians strong performers, they are often passionate teachers and approachable new friends."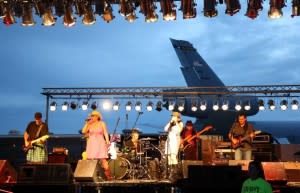 Jen Fisher headlines the very popular local bands 'Sugar Shot' and 'Blue Sugar'.  She's also the former lead singer of local band 'Good Night Gracie'. She loves the diverse music scene in Fort Wayne.  "Most people are surprised when I tell them that a big part of why I came to Fort Wayne 13 years ago was due to the music scene," she tells me proudly. "To this day, I am proud to be a part of such a wonderfully diverse and talented music scene. I don't think many people appreciate just how good this scene it is.  Many cities much larger than us do not have the type of resources and talent that we do."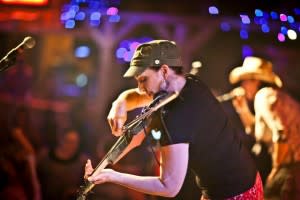 Where do you find out more on the music scene Fort Wayne is so passionate about? "Resources like Whatzup, Meet the Music, C2G Music Hall, the monthly Songwriters Showcase at the Dash Inn, Sweetwater Sound," Fisher says.  She's also humbled by the support her community shows local artists.  "The venues that hire musicians, all the talented bands, musicians, and solo artists, the fans that come out to support us, and so much more that I have probably missed, all make this, in my humble opinion, one of the best places around to be a performing musician."