This post is part of a series highlighting the
Your Story. Made Here.
videos recently produced by the Northeast Indiana Regional Partnership. These videos share the stories of Northeast Indiana, and our many strengths. Click here to view the rest of the series.
When you think of Northeast Indiana what do you think of? For many it's farming, manufacturing, possibly the Amish community, and maybe beautifully patterned handbags from Vera Bradley. Chances are you don't think of Northeast Indiana as a cultural hub for the arts. Let's change that. When I moved to Fort Wayne from the south suburbs of Chicago, I thought I was moving to just another Midwestern small town. I practically expected cows to be wandering down Main Street. I'm only half kidding. What I found when I moved here was much more culturally diverse than I could have ever dreamed. Within a few months of exploring this great community I found myself telling friends back home that Fort Wayne had everything a much larger city had to offer with better accessibility. I won't compare us to Chicago or Indianapolis because we're our own city with our own attributes, but I will say that the opportunities are just as plentiful and are often more affordable and accessible here.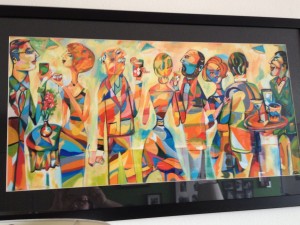 Taste of the Arts
is one of our favorite events every year. Living downtown, it's a short walk from home and provides great food, entertainment, and the chance to experience beautiful art. With over 30 restaurants providing delicious food, decadent desserts (I highly recommend the Purple Mountain cheesecake) and wonderful beverages you'll get a taste of what Fort Wayne's culinary scene has to offer. More than two dozen fine art vendors, some nationally recognized, participated in 2012 with the hopes of bringing more in for 2013  In addition dozens of art groups perform throughout the day highlighting groups such as the Fort Wayne Ballet, Northeast Indiana P.O.E.T.S, and the Old Crown Brass Band. While Taste of the Arts only last for one day, Fort Wayne's love for the arts is showcased throughout the year. The Arts Campus in the Fort Wayne Cultural District (the east side of downtown Fort Wayne) includes Freimann Square Park, Arts United Center, The Auer center, The History Center, the Hall Community Arts Center, the Rankin House, Barr Street Market, and the Fort Wayne Museum of Art. This campus is the realization of a Fort Wayne vision 50 years in the making.  It is devoted to arts and culture and is the artistic foundation for activities throughout the region. Cultural Arts don't just exist on the Arts campus. It exists throughout the city on campuses such as IPFW and University of St Francis offering a large variety of cultural exhibits throughout the year.  Galleries such as the Castle Gallery and the Orchard Gallery of Fine Art are also area favorites.  Wunderkammer Company is one of Fort Wayne's newest spaces to view contemporary art with the mission of "revitalizing communities through contemporary art." So the next time you think of Fort Wayne think of the arts and culture available right where you never would have expected it.