What are you hungry for this holiday season? Are you craving the traditional Christmas ham with all the trimmings? Or maybe you're looking for something a little more adventurous? Read on to find a few new holiday food ideas- and where you can find the ingredients in the Fort.
Christmas Goose
We've all probably heard of the traditional Christmas goose, or read about it many times over in classic novels. I mean, who can forget the joyous feast Scrooge witnesses with the Ghost of Christmas Present at the home of the Cratchits in 
A Christmas Carol
? If you've ever wanted to try this Old World delight, you're in luck! You can pick up your own goose at
Tim Didier Meats
. Tim Didier Meats 3205 North Wells Street Fort Wayne, IN 46808 Phone: (260) 482-8400 Recipe Recommendation: 
Roast Goose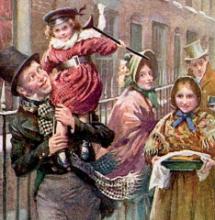 Christmas Duck
If not a goose, how about a duck? Believe it or not, roasted duck is a very popular center of the Christmas meal in many countries around the world, especially in Europe. Here in Fort Wayne, you can get fresh duck at
Hill's Meat Market
. Hill's Meat Market
3211 Lower Huntington Road
Fort Wayne, IN 46809


Phone: (260) 747-5288
Recipe Recommendation:
Vanderbilt Traditional Christmas Duck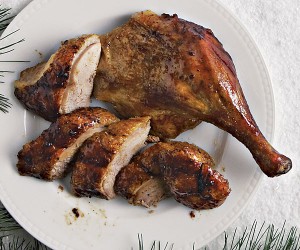 Now Bring Us Some Figgy Pudding!
Yep, figgy pudding is a real thing, folks, not just a line in one of your favorite Christmas carols. The thing is, though, it's not actually pudding. It's a souffle. "The British version of fruitcake," to be precise. According to
homecooking.com
, "Figgy pudding is a spice cake-like souffle made with figs and walnuts. It is moist, delicious, and easy to make." Find your figs at
The Fresh Market
. The Fresh Market 6306 W Jefferson Blvd Fort Wayne, IN 46804 (260)459-9691 Recipe Recommendation: 
Figgy Pudding
Swedish Potato Sausage (Potatiskorv)
Feeling Nordic? For something completely different, one reader highly recommends Swedish potato sausage. "We get it from
Albright's
across from Southgate Plaza. Good stuff." I have to admit that after looking through some recipes, this sausage looks absolutely yummy. Albright's Meats and Deli 4924 S. Calhoun Street Fort Wayne, IN 46807 (260) 456-9009 OR 2820 Maplecrest Road Fort Wayne, IN 46815 (260) 485-0003 Recipe Recommendation: 
Baked Potato Sausage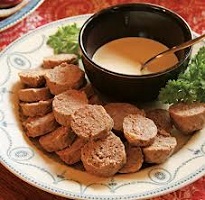 Chorizo-Stuffed Roast (Boliche)
Put a Cuban flair on your holiday meal and serve up boliche, which is an eye of round roast stuffed with chorizo (spicy pork sausage) and ham. It's sure to put a kick in your festivities! A great place to pick up the chorizo is
George's International Market
. Get a quality of eye of round roast at
Jamison Meats
. George's International Market
2021 Broadway
Fort Wayne, IN 46802


(260) 420-5565
Jamison Meats
3423 North Anthony Blvd.
Fort Wayne, IN 46805


(260) 484-4158
Two additional locations
If you try any of these recipes, or if you'd like to share your own, please comment below. Happy Holidays!