It's almost back-to-school time, what better way to fit in a final summer getaway than tackling your shopping list with your friends in Fort Wayne.
With two shopping complexes and more boutiques than you can count on one hand, Fort Wayne's shopping scene offers much more than the drab indoor shopping malls. With all of the options, some great stores can get overlooked, this is why I bravely laced up my black wedges and set out to give you a complete Fort Wayne shopping guide.
Once you're finished reading my adventures on the first day, be sure to check out my second day creating the Fort Wayne Shopping Guide by clicking here.
Fort Wayne, Indiana Shopping Guide
The First Stop: Downtown Boutiques & Shops
Fort Wayne's downtown is experiencing a major metamorphosis, and the expansion of boutique shopping has not been left out of the economic chrysalis. With numerous downtown boutiques and many more located in the greater Fort Wayne area, the opportunities are endless to shop locally.
My summer boutique shopping list started at the athleisure and Pilates store Idlehour. Located on West Jefferson Boulevard past McDonalds and Starbucks. Idlehour is tucked into the side of the building so finding the entrance can be tricky if you've never been in the store before. However, the owner does a great job setting a sign by the parking lot to direct you to the front door. Idlehour specializes in an array of women's fitness clothing, including fabrics that breath and wick sweat during your workouts, but also feel great when lounging on the couch. Also, in-stock are candles and homemade jewelry crafted by local Fort Wayne artists. 
My next boutique stop was at Lace & Arrow, located in the Harrison Suites that adjoin Parkview Field. Lace & Arrow is a new boutique that stocks its shelves with on-trend women's clothing. Brands vary between high-end designers from New York and LA to new fashion labels. The varying of fashion in the store keeps prices competitive and allows everyone to be able to find something they can add to their closet. Additionally, Lace & Arrow stocks polarized sunglasses, trendy glassware, and jewelry.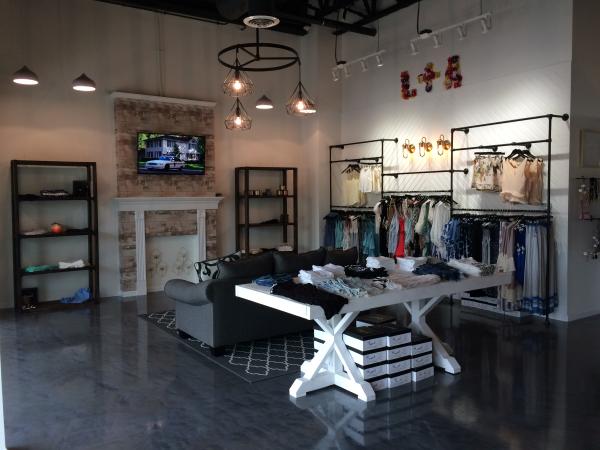 Lunch Break
Upon my shopping quest, I found myself starving from all the calories I was burning trying on piles of dresses and printed shorts. So, I grabbed a bite at one of Fort Wayne's many downtown restaurants. With over 20 downtown restaurants to choose from, you're sure to find a favorite.
As I walked down Harrison Street after lunch, I stopped by the Ash Skyline Plaza, the new Ash Brokerage building has magnificent offices on the top floors with businesses rented out at the bottom. So far, the businesses renting space at the bottom are a two new restaurants opening in 2018, Fort Wayne Outfitters Bike Hub, a YMCA branch, and DeBrand Fine Chocolates.
As I walked past the Ash Plaza, of course, I had to indulge in the finest chocolates Fort Wayne has to offer – DeBrand Fine Chocolates. With truffles, creams, nut clusters, chocolate bars, coffees and decadent sundaes, I was in chocolate heaven. That caramel hot chocolate DeBrand sundae has been the best sundae I've ever tasted and the perfect fuel for the middle leg of my shopping extravaganza.
Downtown Boutiques Round 2
Across the street from DeBrand Fine Chocolates, is The Find. I was immediately digging the vintage chic look and feel of the wooden accents and distressed end tables. The "finds" you'll discover in The Find though are hardly distressed. With a wide array of goods for sale, you can buy women's clothing, skincare products, jewelry, adorable baby blankets and onesies, even unique cards if you forgot to pick-up that birthday card while you were out-and-about.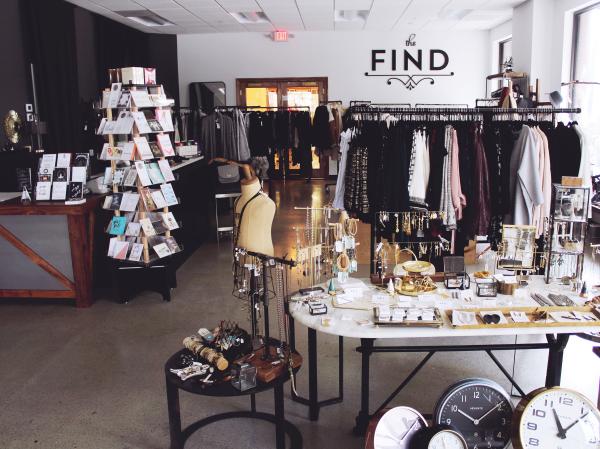 My next and final stop downtown was The City Exchange, a unique opportunity for small business owners. Instead of one shop, The City Exchange is a cluster of storefronts in one place. As a way to get small businesses off the ground, shop owners can rent space in The City Exchange and sell their goods out of them. The City Exchange includes Poptique, selling gourmet popcorn, The Juice Jar, selling organic and healthy juice drinks and smoothies, and The Narwall and the Manatee, a collection of skin care products, scrubs and moisturizers, and much more.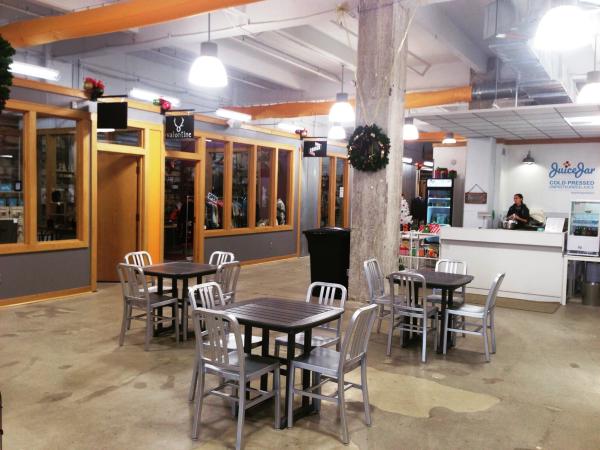 Unfortunately, during my boutique shopping experience, I couldn't go to a few storefronts because hours can vary by location. If you spot a boutique you think you want to visit on your shopping adventure, be sure to look up a store's hours of operation beforehand.
Next Stop: Glenbrook Square
After my adventures in downtown, I headed to the north of Fort Wayne just a short distance away from downtown, to Glenbrook Square. Glenbrook Square is the large, indoor shopping complex that boasts over 100 stores, three full-service restaurants, nine quick service restaurants, and seven places to grab a snack. Clearly, you could easily camp out at Glenbrook Square all day if you're so inclined. While I spent only the afternoon at Glenbrook Square, it was jam-packed with fashion-forward finds for everyone in my family. I grabbed a children's book for my little sister at Barnes & Noble, nabbed a shirt for my fiancé in the men's section at Express, and some heels for me at Payless and Forever 21.

While Glenbrook is obviously packed with more mainstream retail stores, it has something to offer for everyone in your family. Whether it's back-to-school, birthday, or just-for-fun shopping, Glenbrook Square should be on your Fort Wayne shopping list.
End of Day 1
Today was quite the day, hitting all that downtown Fort Wayne and Glenbrook Square has to offer was so much fun. I would highly recommend grabbing some friends and spending the day in Fort Wayne. Make a day trip out of it and grab a TinCaps game in the evening or head to Club Soda for cocktails as a toast to all of the awesome finds of the day. Or do as I did and stay the night in Fort Wayne to go to Jefferson Point and Covington Plaza the next day!
For the Day 2 and the second leg of the Fort Wayne Shopping Guide, click here. 
You Might Also Like