If you're from New York or Chicago you might think your cities rule when it comes to pizza joints. But I'm here to burst your bubble. Fort Wayne has a few pizza places that give these cities a run for their money! The best part is the variety. Whether you like deep dish, thin crust--or somewhere in between---the Summit City has something to offer. Here's a look at some of my favorite places to get a slice or two: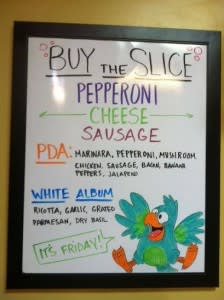 Pint & Slice: This family friendly pizza parlor downtown serves up delicious creations. I give them an A in the creativity department. With such choices as the White Album(pizza with a white sauce) and V-8(vegetarian), they're not afraid to think outside of the box. What I appreciate most is the ingredients are fresh. They also offer a gluten-free crust, to accommodate GF folks.  You can also order salads, wraps.  pasta, and calzones here.
800 Degrees: This local franchise has two locations; one north and another southwest. You cannot go wrong with either location. Perhaps what sets them apart from the rest is their approach: the wood-fired hearth is the first of its kind in Fort Wayne! They use locally sourced produce and meats, and it shows. Both locations serve several beer and wine options.  They also have GF options.
Mad Anthony's: Mad Anthony takes the cake when it comes to deep dish.  The crust is thick enough to send anyone into a food coma--in the best way possible. They also have live music on the weekends. What goes better with pizza than beer? Try one of their seasonal beers brewed on-site. So, there you have it....four ways to get your pizza on.  Tell them we sent you!

More tasty pizza choices: Big Apple Pizza, Toscani's Pizza, Oley's Pizza, Mama Mia's, Amore's Pizza, Lexy's Pizza 
Update: Toscani is Permanently C