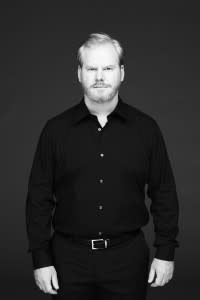 Jim Gaffigan is one part goofy and another part self-deprecating, but all-around funny. The father-comedian wows crowds of all ages with his real world, relateable humor. (Who hasn't eaten a Hot Pocket before?) Fans can see him live and in action March 23 at the historic Embassy Theatre as part of "The White Bread Tour." (Tickets are almost gone, so get them now!) I saw Gaffigan at the Embassy two years ago on a date with my now boyfriend. Gaffigan's brand of comedy was the perfect catalyst to break the ice. As I said before, he's a regular Joe, and that's endearing. You can expect lots of humorous anecdotes about his large Catholic family, peppered with some clever observations about humanity. One observation I made his how his humor seemed to cross demographic lines. There is truly something for everyone.
I also respect his ability to craft funny jokes without being crass for the sake of it. But don't just take it from me. Critics have raved about his performances.  "Gaffigan stands in small and unique company," said an online 2012 review of his online "Mr. Universe" show in The Laugh Button. "He's one of the few comedians that works clean and has an act for nearly anyone to enjoy, yet he's still able to walk the line where he's edgy, respected by peers, gets critical acclaim and makes a decent living at it." Now, back to the self-deprecating part. Gaffigan is a home-grown Hoosier boy and he has encountered his share of stereotypes about his roots. What better way to address it than through humor? The "white bread" reference is a nod to references in articles where he's been described as this way. Instead of taking it as criticism, he embraces it. How could you not like this guy? The venue might be just as much of a treat as the comedian. There is not a bad seat in the house, you'll discover. And the acoustics are great for an event like this.
Tickets run between $36.75 and $46.75, plus fees. Get them here.