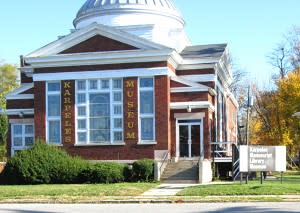 There's a new museum in Fort Wayne but you probably won't need a map to find it.  You can look at a map after you get there, though! Welcome to the new Karpeles Map Museum which held its grand opening on Veteran's Day this month.  The museum is an offshoot of the other Karpeles Manuscript Library Museum which opened five years ago and is located on Fairfield Avenue. According to director Lisa Olinger, the second museum which is on a three-to-six month rotation schedule, offers twelve 32" hexagonal cases of maps on display. "The theme of the current exhibit is 'The Strange Shape of the United States,'" said Olinger, adding that the next exhibit will probably arrive at the end of December 2013.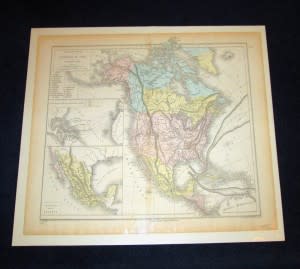 "Once you've seen something here, you might not see it again anywhere.  Visitors are welcome to browse through the exhibits themselves, and they are invited to ask any questions of the 3-member staff or volunteers." One of the more interesting exhibits – and a special favorite of Olinger's – was the Literal Bible which featured some of the oldest and most culturally-diverse documents. Through these rotating exhibits, visitors can see the best of the past as it leaves its indelible mark on the future. The Karpeles Map Museum, 3039 Piqua Avenue, Fort Wayne, IN 46806 is open Tues – Sat from 10 a.m.-4 p.m. and the Karpeles Manuscript Library Museum, 2410 Fairfield Avenue, Fort Wayne, IN 46807, and the same phone number (260 747 2422) and email address (
KMuseumFtW@aol.com
) are used for both.