I really enjoy attending live events – concerts, plays and musicals, lectures, sporting events – but not always for the same reason. Sometimes it's because I love the music, sometimes it's because I want to learn something, sometimes it's because I want to support my favorite team, and sometimes it's just because I want to have fun. And honestly, there aren't many events that are more
fun
than live wrestling shows. You'll be able to see that for yourself on Tuesday, November 25, 2014, when
WWE Smackdown
returns to the Allen County War Memorial Coliseum here in Fort Wayne, Indiana.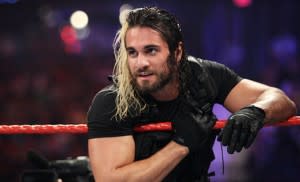 As I mentioned in a previous post, unlike
Raw
,
Smackdown
doesn't air live – it's taped on Tuesday to air the following Friday. In this case, that's Black Friday, November 28. So while it's not a holiday show per se, it should still be pretty special. One of the other benefits of seeing
Smackdown
live is that a second show,
WWE Main Event
, tapes the same night. Two shows for the price of one? Not a bad deal. Currently, the match card for the show includes Roman Reigns (whose first show back from surgery could be this one), Sheamus, Seth Rollins, the Wyatt Family, The Big Show, Kane, Mark Henry, Cesaro, and Dolph Ziggler. This certainly isn't an exhaustive list, and figuring out who else will show up is part of the fun. Wear your favorite wrestler's T-shirt (I'm feeling a little "unstable" myself)! Make a sign! Elbows start dropping at 7:00 p.m. Tickets for the show are still available and range in price from $15 to $95 (additional fees may apply). See
www.wwe.com
or
www.ticketmaster.com
for more information. And, you can register to win a four-pack of tickets to the big show
here
!