If you're partial to small, out-of-the-way country churches, especially those with a pre-Civil War history, you'll feel right at home this Christmas in the Prairie Grove Chapel on the outskirts of Waynedale in southwest Fort Wayne.
[[endteaser]]
You'll have to hurry, though - the picturesque chapel only holds about 100 worshippers, according to Glenn Ellenberger, the realtor who founded Deeds of Compassion which, among other tasks, has been restoring this antiquated parish over the years.
"We will have Christmas services again this year," said Ellenberger of the interdenominational chapel. "There will be two - one on the 23rd and one on the 24th - and both will begin at 7:00 p.m. Pastor Eric Riddle will be giving the Christmas sermons at both candlelight services.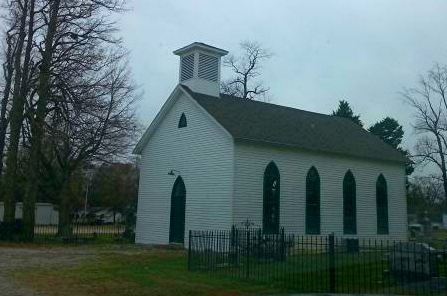 "We can only fit around 100 people, so come early and enjoy cookies and hot and cold drinks. This will be such a beautiful 'Hallmark Christmas Service.'"
The approximately 155-year-old building, once a fully-functioning pre-Civil War parish, fell into neglect about 25 years ago. During the time between then and now, the church had a fire and only recently became an operating parish again, thanks to Deeds of Compassion and dedicated Waynedale (and other) volunteers.
"We also make the Chapel available for gatherings like weddings and funerals," said Ellenberger, who added, "There is no 'every Sunday' service.
"All money collected from weddings and Christmas services go to the restoration and maintenance of the chapel. Nobody gets paid. And the money given is tax deductible. I hope someday we can build a pavilion next to the chapel and have a restroom in it."
The bathroom-less church and connecting cemetery are complemented with an outhouse about 150 feet away, and Ellenberger says that the volunteers are committed to keeping the Chapel as original as possible and that means not putting in a bathroom. Other parts of the church are continually being rehabbed, and Ellenberger invites readers who want more information or to request use of the chapel to contact him at 260-760-7194 or email him at Glenn@GlennEllenberger.com. Donations could be sent to Prairie Grove Chapel, 6312 Old Trail Road, Fort Wayne, IN 46809.
If you want to place yourself in a Norman Rockwell scene this Christmas, harken to the pealing church bell of a tiny, rural parish and celebrate the coming of the Lord with your fellow worshippers on this holy night!
Other Services 
Other area churches are also offering holiday services, including another little congregation, also near Waynedale - the Elmhurst Church of the Nazarene, which celebrated its 75th anniversary in 2014. According to Reverend Richard Dickson, services will include a December 22, 2015, Sunday service with the church choir Cantata at 10:30 a.m., and a 6:00 p.m. Christmas Candlelight Service. The address is 2951 Sandpoint Road, Fort Wayne, IN 46809 and phone number is 260-747-6412.
There are other special holiday services taking place around town; this is just a partial list.
3425 Crescent Avenue
Fort Wayne IN 46805
Christmas Eve: Family Services at 4 pm and 7 pm, Candlelight Communion at 11 pm
Christmas Day: Communion Service at 10:15 am
10312 Aboite Center Road
Fort Wayne IN 46804
Christmas Eve Candlelight Service - call 260.436.5673 for time
1502 E Wallen Road
Fort Wayne IN 46825
Christmas Eve Play at 3-4 pm
611 West Berry Street
Fort Wayne, IN 46802
Christmas Eve Carol Vigil from 8 - 8:30 pm
Christmas Eve H.E. Rite I from 8:30 - 10:30 pm
Christmas Eve H.E. Rite II from 5:00 - 6:00 pm
Christmas Day H.E. Rite II from 10 - 11:30 am
300 East Wayne Street
Fort Wayne, IN 46802
Christmas Eve Services: Lessons & Carols from 7 - 8:30 pm
Many churches are hosting holiday services, but the list above represents special services we found in the area. For a complete list of religous denominations in Fort Wayne visit FWChurches.com.
&n